Dentists recommend you to use the best brush to take the plaque out of the teeth. You get a brush worth a dollar from Amazon and use it to your heart's content. After three months or so, you need to replace your toothbrush. But that doesn't mean you need to throw it away.
Your used toothbrushes could be put to good use. In fact, toothbrushes can have several alternate uses. So without any further ado, we present some useful hacks on how to get the most life out of your old toothbrushes –
1. Brushing Eyebrows
If nothing else, your toothbrushes work wonders on your eyebrows. Not only do they help to untangle the strands of hair in your eyebrows, they scrape off the dandruff from the scalp. Toothbrushes work wonders on unkempt eyebrows. All you have to do is brush the scattered hairs in place.
2. Gum Removal From Clothes
Many people have a bad habit of sticking chewed gum here and there. And poor unsuspecting you, sit on it, and then, it gets stuck on your clothes. Getting gum stuck on clothing is irritating, but toothbrushes are the perfect tool to scrape away gum or any other residue from your clothes. Moreover, they also prevent any damage to the cloth fibers.
3. Lips Exfoliation
Not only does your toothbrush help protect your teeth, it also helps to maintain healthy lips. Toothbrushes can scrape away the dead skin on your lips and restore the natural color of your lips. Simply apply some lip balm and start scrubbing your lips with a toothbrush in a circular motion.
4. Keyboard Cleaning
Cleaning the keyboard is a pain in the… you know where. Not only can an unclean keyboard cause allergies, it can also lead to jamming of the keys on the keyboard. A toothbrush can easily clean the surface of your keyboard. It can brush between keys and get rid of gunk and crumbs.
5. Hairbrush Cleaning
If you clean your hair, then you need to clean your hairbrush as well. Otherwise, you will have an itchy scalp. You can also use a toothbrush to clean your hairbrush. Simply dab your toothbrush between your hairbrush bristles and stray hairs will get caught in your toothbrush bristles as you lift your toothbrush out of the hairbrush.
6. Declumping Mascara
Applying makeup can be quite tedious if you do not have the right tools for it. If you have appropriate brushes, then you can dish out a snazzy appearance. Otherwise, you could look like a fool even after having the best paraphernalia. In case you do not have the right brushes(which are also quite expensive), then you can use your toothbrush instead. It can help to wipe off excess mascara within seconds with a toothbrush, but make sure the toothbrush is clean otherwise you might irritate your eyes.
7. Vent Cleaning
Aircon vents can be dirty as hell if you do not clean them once in a while. Here also you can put the toothbrushes to use. Toothbrushes can squeeze into the smallest crevices like air conditioning vents and bring out all the muck. In fact, in most of the cases, toothbrushes get rid of dust better than industrial-grade dusters. So why invest in costly apparatus? Use an economical toothbrush instead.
8. Hair Dye Application
This is a no-brainer. Applying hair dye does not require any fancy paraphernalia at all. Different companies advertise different products to apply hair dyes. But the best solution is to use the toothbrush. It's hard to evenly apply hair dye or highlights to your hair, but toothbrushes make the whole task easy. All you need to do is simply dip a toothbrush in the hair color and brush it on your strands.
9. Blackhead Removal
Blackhead removal is another painful task. This too can be accomplished by using our trustworthy toothbrush. Toothbrushes are great tools to add to your skincare kit. The bristles can scrape out anything from a pore. In fact, you can apply toothpaste on your nose with the help of a toothbrush. Then scrub it off with a toothbrush, and say goodbye to blackheads, forever.
10. Removal Of Carpet Stains
A dirty carpet has a treasure of germs which can land you in the hospital. Moreover, the coffee spills or the maple syrup drips are painfully difficult to clean up. And they look so bad. There are some carpet stains that don't go away with water. In cases like that, use a toothbrush to loosen the stain and gradually it will disappear.
11. Cleaning Grout Off Your Tiles
Cleaning the grout from the bathroom tiles is extremely important. These places are often neglected and make the bathroom look bad. Tile grout cleaners sell for over $25, but a toothbrush can serve the same purpose in a better way. That too, without ripping the stitches of your wallet.
12. Stove-top Cleaning
Oh man, more mess! Stove-tops can be so dirty. Moreover, they are so cumbersome to be cleaned up. Napkins and the scrubbers can't always clean up messes on the stove. But your toothbrush can prove to be more than effective in this situation. Move your toothbrush in a circular motion on any stove-top stain and it will be rubbed right away.
13. Toilet Cleaning
There is always a nook or crevice in your toilet bowl that remains untouched. We do not need to remind you how dangerous it can be. Here also, your toothbrush could help you out. You can get creative with your toothbrush and turn it into a toilet wand. Light a lighter about an inch and a half below the bristles. Once the toothbrush becomes soft, bend it 90 degrees, and presto! you have a toilet cleaning wand.
14. Splinter Removal
Those wood splinters can be quite painful when they penetrate your skin. But how do you get them out without adding to your miseries? Sometimes the act of removing splinters is more painful than the splinters themselves. That's because they are so small and nimble, you fail to notice their location. Luckily, toothbrushes make the process fairly painless. Dab your toothbrush in a mixture of water and baking soda and gently rub the brush over the splinter until it comes out.
15. Jewelry Cleaning
Cleaning jewelry is always a big deal, especially when silverware is concerned. It is very easy to get gooey stuff stuck in the crevices of your jewelry, but also difficult to remove it. However, toothbrush bristles can easily get your favorite pieces of jewelry looking brand new.
16. Making Bracelets
Besides cleaning jewelry, old toothbrushes can be used for making jewelry also. Who could believe that toothbrushes can help you make a fashion statement? What you have to do is place your brush in a pot of boiling water and bend the toothbrush until it forms a circle. Wait until it cools before wearing it.
17. Nail Art
Apart from having the regular nail paintbrush, you can also use the toothbrush for dishing out some looooovely designs on your nails. With some artistic talent and some presence of mind, you can paint a cool design on your nails with a toothbrush.
18. Cleaning And Painting The Nails
Cleaning your nails without cutting or breaking them off is quite an accomplishment in itself. Painting your nails is equally pensive a task. If you want to treat your nails with elan, better bring a toothbrush to the equation. With some artistic talent, you can paint a cool design on your nails with a toothbrush.
19. Hair Styling
Styling your hair can be quite expensive if you get it done in a hair salon. You can perform the same in your home. All you need is a toothbrush at your disposal. You could add some flair and design to your braids and other hairstyles by brushing in the opposite direction of them with a toothbrush. Your hair will instantly have texture and a roughed-up look. Isn't that easy?
20. Sink Cleaning
The sink is another dirty place in the kitchen or in the bathroom. If not cleaned properly, then it can look quite tacky. Dirty sinks contain a lot of salmonella and staphylococci, which in turn could give you an infection, that too a transmissible one. What you can do is, clean your sink drain with a toothbrush to avoid clogs and other buildup.
21. Cleaning Electrical Gadgets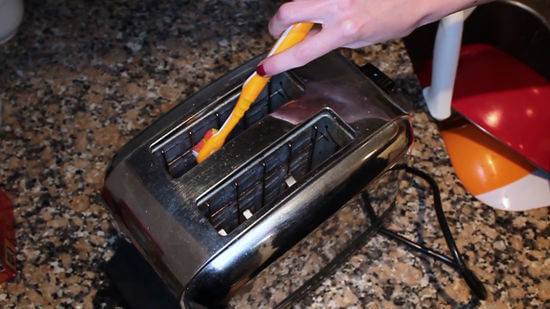 It is extremely difficult to clean electrical gadgets, especially the ones which have a Teflon coating over them. Toasters, microwaves, and most other home appliances can be cleaned with a toothbrush. All you need is to apply a mild detergent and scrub the whole area. Wrap a cloth around it and wipe it off.
22. Velcro Restoration
Velcro on shoes and jackets has always been quite convenient. You save a lot of time and effort instead of using the traditional zipper or laces. But Velcro tends to weather out over time. Threads, hairs, and lint can get trapped in the bristles of Velcro strips. You can stop the damage by using a toothbrush to remove all the junk that gets deposited in the strips.
23. Toy Cleaning
If somebody told you that children's toys are the breeding ground for bacteria and other germs, you would be mightily surprised, wouldn't you? Make sure you clean them with Dawn liquid detergent, warm water, and a toothbrush regularly to prevent your little ones from getting sick.
24. Polishing Inner Furnishings And Decor
After a few years, all the brass furnishings lose their luster. Most of the time it is the polish that wears off. Most people neglect cleaning these parts of their house furnishings. The cabinet pulls and door handles, or the knobs of drawers, all are made of brass and other alloys. Cabinet pulls attract a lot of germs and are corroded because people touch them many times in a day.
25. iPhone Charging Port Fixture
iPhone is one heck of a device. It has a lot of uses as well. Still, the technology these days is so great, you can fit a lot in the microprocessors. It has many ports in it. If your iPhone doesn't charge properly, the number one culprit is lint buildup inside the charging port. Simply use a toothbrush to clean out the port.
26. Brush Restoration
There are many people who know what we are talking about. A lot of people have a habit of brushing with a lot of pressure. As a result, the bristles become awry. This makes the brush extremely prickly. You want a remedy for this one? All you need to do is place your frayed toothbrush in hot water for 15 minutes and it'll look as good as new.
27. Pet Grooming
Pets are extremely furry. Their hairy coats are breeding ground for many types of germs. If you have a pet in the house, so you have to maintain an optimum level of hygiene. Toothbrushes are perfect for brushing tiny pets like hamsters. Make sure you clean your brush before you do this.
28. Faucet Cleaning
Another vulnerable spot in the house is the bathroom faucets. They get coated with lots of salt and other forms of residue. Faucets must be cleaned regularly to avoid mold, depositions and stains. What should you do to avoid it? Dip your toothbrush in some white vinegar and your faucet area will shine like gold.
29. Cleaning The Cuticles Of Your Fingers
Personal hygiene is of utmost importance, especially for all those of us who have OCD for cleanliness. But are you aware where most of the grime and dirt is? In your nail cuticles! So how do you get it out? The answer, again, lies with the toothbrush. Not only are toothbrushes great for cleaning underneath your nails, but they can also be used to clean your cuticles.
30. Vegetable Cleaning
It is extremely important to wash the vegetables before you cook. With pesticides and germs in the fray, it is doubly critical. Make your vegetables extra clean by washing and scrubbing them with extra care and precision. A toothbrush treatment is handy before you actually start cooking the veggies.
31. Cleaning The Chopping Board
Now, if you are chopping veggies, then you know how messy it can get. When the juices flow, they drip into every crevice of the board. Many cutting boards have textured surfaces that attract bacteria and other food contaminants. Take a toothbrush, use some water, baking soda, and a toothbrush to leave your cutting board sparkling!
32. Removing Crayon Marks From Walls And Closets
The children are so cute. But the way they live their lives can be quite a headache for you. Have your toddlers left your walls a mess? Don't worry, with some shaving cream and an old toothbrush you can leave your walls looking like they were just freshly painted.
33. Cleaning The Garbage Disposal
Garbage disposals are quite a convenience when it comes to maintain some cleanliness in the house. But it can get dirty overtime. What you can do is you can use a toothbrush to clean the food that gets stuck on the flaps of the garbage disposal. Make sure to rinse with cold water after you're done!
34. Cleaning The Car
What else can this magical toothbrush do? It can also help you in cleaning up the car. What? You cannot believe it? A toothbrush is a great tool to clean out all the hard to reach places in your car. If your headlights are dirty, you can use your toothbrush for cleaning it up. Apply some toothpaste and wash them to make them look new again.
35. Wiping The Waffle Iron Clean
Waffle Iron is another place that gets quite dirty over a period of time. Sticky batter and high temperature have never been good friends of the cast iron grill that is used to pelt out those yummy Belgian waffles. Use your toothbrush to help dislodge stuck bits of waffle. It also helps if the waffle iron is already a little warm.
36. Removing Laundry Stains
Another active area of application of the toothbrush is the laundry. Before throwing your stained clothes in the wash, make sure to apply baking soda on the stain and scrub with a toothbrush. This will ensure that the stain is completely removed. Your clothes will be cleanest than they have ever been.
37. For Painting
We have been doing this for quite some time now, isn't it? Remember how we used to use the toothbrush before the sprayers were invented? You can always add a toothbrush to your arts and crafts equipment as it a great tool to add textures to clay, paint, and play-doh. Moreover, there is no risk of your children choking on it.
38. Servicing The Bike Chain
The bike chains need oiling and servicing from time to time. But how do you do that? Take two toothbrushes and have the bristles face each other. Then tape the handles of the two brushes together. Put your bike chain in between the two brushes and spin the pedals so the whole chain can be cleaned and oiled effectively. Now, isn't this a cool hack?
39. Cleaning Dirt From Your Footwear
Your trustworthy toothbrush can be helpful here also. Do you have a pair of nice white shoes that just can't seem to stay clean? So what are you going to do about it? Well, here's a small and smart trick. Put a little bit of toothpaste on a toothbrush and use a little elbow grease. This is enough to get rid of all the nasty dirt from your shoes.
40. Cleaning The Keurig
If you are wondering what the Keurig means, do not feel embarrassed for you are not alone. The Keurig is a beverage brewing system for home and commercial use. This device has an area where the coffee pod is located is small and extremely hard to reach with conventional brushes. Use a toothbrush to prevent mold from building up and to ensure that your coffee is always delicious.
41. For Applying Glue
Glue is an integral part of our daily lives. You need it for your school projects, or for sticking a ripped off sunmica on your furniture. But do you hate the feeling of dry glue between your fingers? You can use a toothbrush to apply the glue! A toothbrush is a great tool that easily spreads glue while also keeping your fingers clean.
42. Cleaning The Refrigerator
Refrigerator is one more place that needs toothbrush care. The freon emitters can get dirty easily. Also, fridges often have a lot of bacteria and food particles that build up over time. If not tended at the right time, it could give you food poisoning. Use a toothbrush to clean those hard to reach nooks and crannies.
43. Scrubbing Baseboards
You also need to take care of the flooring. But some of the surfaces are difficult to clean up. Baseboards are something that can be quite tricky to clean, but luckily we have a tip that can help you out if you face such a situation. Dip your toothbrush in soapy water and scrub away at the dirt and dust to leave your baseboards looking brand new.
44. Deep Cleaning The Fish Tanks
Most of us like to keep aquariums at home. But cleaning the fish tanks can be an arduous task. The fish tanks often have algae and slime buildup on the walls. In order to clean this slimy crap off the aquarium's walls, simply take a toothbrush and wipe off the yucky substances.
45. To Clean The Corns On The Cob
Yes, even here the toothbrush can come in handy. Who knew that the toothbrush was so versatile? Before you start cooking your corn on the cob, use a toothbrush to remove any strands of silk that are still on the corn. This will help prevent the silk from getting stuck in your teeth. Toothbrushes help in all-round protection of teeth.
46. Clean The Wire- Screen On Your Doors/Windows
We have cleaned every nook and corner of the house with the toothbrush. Is there any other place left? Yes, these spots are the wire mesh screens of your doors and windows! Screen doors and windows are often a breeding ground for dust. Make sure to clean them every few months using a toothbrush to get rid of any unwanted grime.
47. Cleaning The Pulp Remains From The Juicer
The dirtiest spot on this planet is an unclean juicer. If not cleaned properly, then there are chances that you and your family could fall sick. But due to its curved and cumbersome shape, it is extremely difficult to clean it completely. Making juice is often a healthy way to start the day, but cleaning your juicer afterward is a different business altogether. For cleaning the juicer, soaking it in hot water is vital. Then using a toothbrush to get rid of the particles and pulp is a way to ensure that all the bacteria is removed.
48. Cleaning The Hair Straightener
Over a period of time, your hair straightener can become quite dirty. Due to all the hair, dust, and other particles present in the atmosphere, there is a lot of micro-deposition on your hair straightener. If ignored, it can make you sick. In order to clean it, dip a cotton swab in rubbing alcohol and wipe down the straightener. Then use the toothbrush for the stuff that is really stuck!
49. Managing The Micro-Hair Line
Each of us has a baby hair line or a micro hair line on our forehead. These are those small hairs, that have stunted growth and are on the brim of the forehead, just on the threshold of your main hairline. If your baby hairs are messing up your hairstyle, then also you can employ your toothbrush to the rescue. What you can do is that you can spray a little bit of hairspray on the bristles of your toothbrush and brush those baby hairs out of the way.
50. Cleaning The Can Openers
Another secluded place for the germs to thrive and prosper is the crevices of the can openers. The gears on your can opener often stop moving when food particles are stuck in between them. It is advisable to clean them from time to time. Sometimes, the gears get jammed because of the soft and sticky deposition. In order to get them moving again, use a toothbrush to get rid of those unwanted particles!
51. Adding A Shine To Wrought Iron Gates/Fences
Wrought iron is used in making gates and fences. Not only is it beautiful and it is pragmatically a durable material also. However, this does not come without its fair share of drawbacks. The rough surface of the wrought iron structure attracts a lot of dust and dirt. Using some dish soap and a toothbrush can help get rid of both the corrosive elements.
52. Cleaning The Nail Polish Stains
In order to get nail polish remnants off your fingernails, there is a cool trick that you can try out. Dip your toothbrush in a mixture of baking soda, water, and lemon juice and scrub away the old nail polish. If you see your nail spic and span, then you know whom to thank for it.
53. Cleaning The Blinds
Most often a lot of people neglect cleaning their blinds. Then they are at the risk of letting their allergens running wild. An allergic flare in your house means you have a lot of dust and mites in the vicinity. Remove the blinds and dip them in a tub of soapy water. You can scrub with a toothbrush and voila! they come out clean.
54. Cleaning The Watch Dials
Watch dials are things that get dirty quite easily. If they lose their luster then they look quite dull. So for cleaning it thoroughly, all you need to do is dip your toothbrush in soapy water or a metal cleaning liquid, then scrub the dial of your watch. Once you clean up the dial, you can concentrate on the rear of the watch's dial and on band of the watch as well.
55. Scrubbing The Mess Out Of The Grater
Graters are a convenience in our hectic lives. They come in use every day, especially if you love to add the cheese to the food. Mashed mozzarella crumbs are often difficult to clean up from the holes. The small particles tend to get jammed in them. An easy hack would be to use the toothbrush whose bristles can easily move in and out of the small holes of the grater.