}?>
}?>
We lost a hero today. Fargo, a Belgian Malinois K-9 officer, was shot and killed during an armed robbery. The brave pup began working with the force at nine months old and had served for a total of five years.
He had an immense love for his line of work that was almost as strong as his love for his trainer and dad, Deputy Warren Cavanagh. Their bond was so unbreakable that Fargo could always tell what his partner was going to say without him even needing to speak.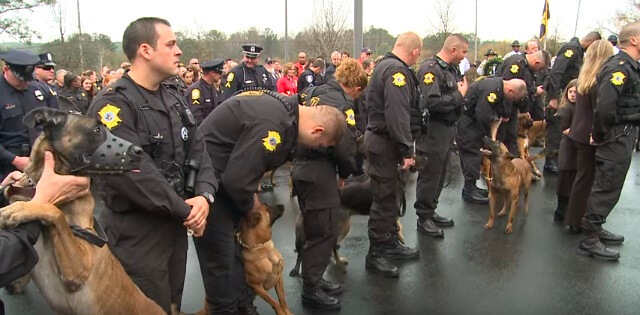 Their incredible friendship was full of trust and togetherness. Fargo lived with his partner and became the family pup. Cavanagh's daughter, 8-years-old, was also deeply affected by the loss of the beloved fur ball.
Fargo's passing marked the first time in 37 years for this department that a K-9 officer was killed in the line of duty. His funeral was filled with police officers lining the streets and his own K-9 friends standing faithfully by. Even the rain couldn't deter them, and they regarded the falling water as tears of the angels also mourning Fargo's passing.
Take a look at this video
Cavanagh said during his eulogy, "Saying goodbye means you're never going to see him again… So I said, 'I'll see you later.'" More bittersweet and melancholy words have never been spoken. Rest in peace, Fargo! We'll see you on the other side of the Rainbow Bridge.
Do share this around to honor Fargo.
Feature Image Source:Â Matt Perron