}?>
}?>
Ever wanted to go to Australia to see the amazing landscapes and all the animals (not to mention hearing the hunky accents)? You may change your mind after seeing these pictures! These are things that only happen in Australia!
1) Crocodiles riding the waves

2) MASSIVE crocodiles taking up a flatbed trailer

3) Crocodiles jumping out of the water

4) Crocodiles being devoured by snakes

5) Crocodiles bigger than truck beds

6) Crocodiles parking themselves

7) Snakes on golf courses

8) Real snakes on a plane

9) Snakes eating giant bats

10) Snakes in toilets (I'm checking under the seat from now on)

11) Snakes big enough to lift wallabies

12) Snakes in shopping stores

13) Snakes eating giant iguanas for brunch

14) Dingoes eating sharks on the beach

15) Sharks surfing for surfers

16) Sharks sneaking on golfers

17) Ridiculously huge earthworms that you could probably catch a crocodile with. *Goosebumps*

18) A lot of deadly-poisonous funnel web spiders at a campsite

19) Paralysis ticks (This is before and after eating)

20) Centipedes big enough to kill snakes

21) Stonefish that blend in perfectly

22) Poisonous marble cone snails that cause respiratory muscle paralysis with one touch

23) Huge cassowaries that are pissed-off

24) Killer-sized hail that can ruin your life. Literally.

25) Sheep that ride motorcycles just because

26) People riding kangaroos. Wait, what? Kidding!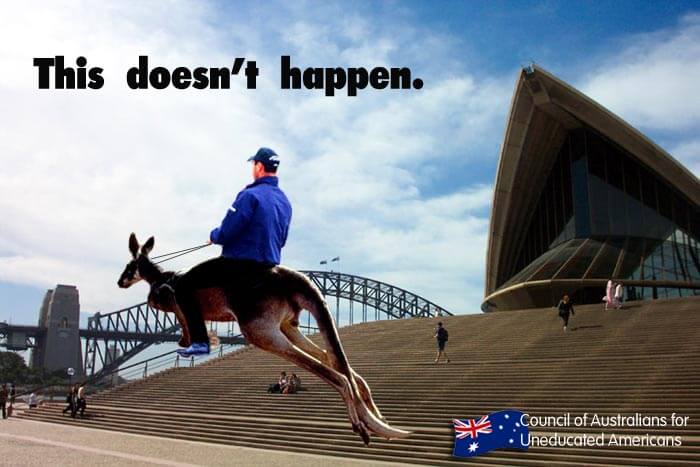 Hopefully you won't have nightmares about these and may still choose to visit. Maybe you can even get a kangaroo tour! Just do not forget you bubble wrap. And helmet. And bug spray. You know what, just go in full armor.