Social media is full of pictures where couples are expressing their love for each other. While some of them are really cute, others can be quite annoying. Guys often miss all the fun that they used to have in their bachelor pads because after getting into a relationship, their lives get centered around their girlfriends. We often miss out on a lot of fun that we see our friends having on social media. However, even with all these problems, there are some couples who restore our faith in love. We all endeavor to have a relationship like them because of all the cool things that they do. Here are some of the really inspiring love notes that couples have written for each other.
Nerf Gun War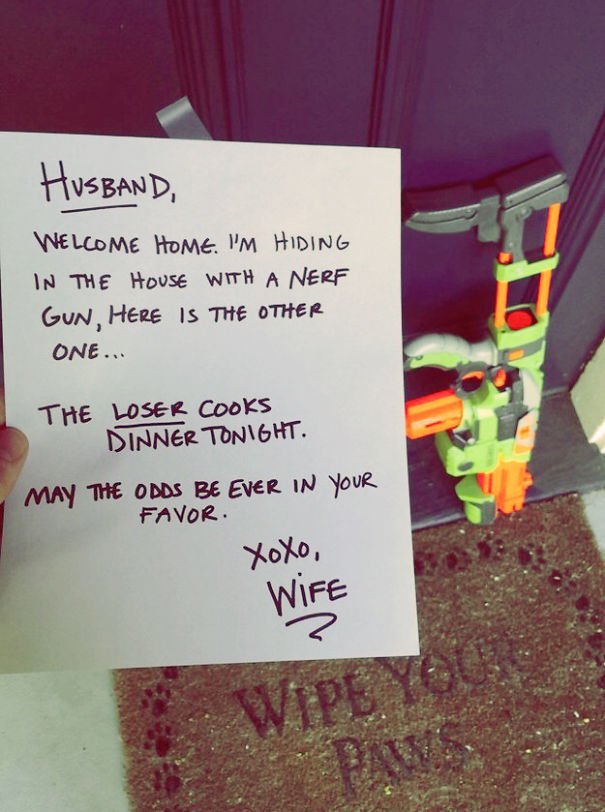 Imagine coming home from your job and finding this note along with a nerf gun right at your door. You know it is going to be a fun night when you are going to have a nerf gun war before dinner. And the results were in for this war. The husband lost and he cooked burgers for dinner.
Tired After Work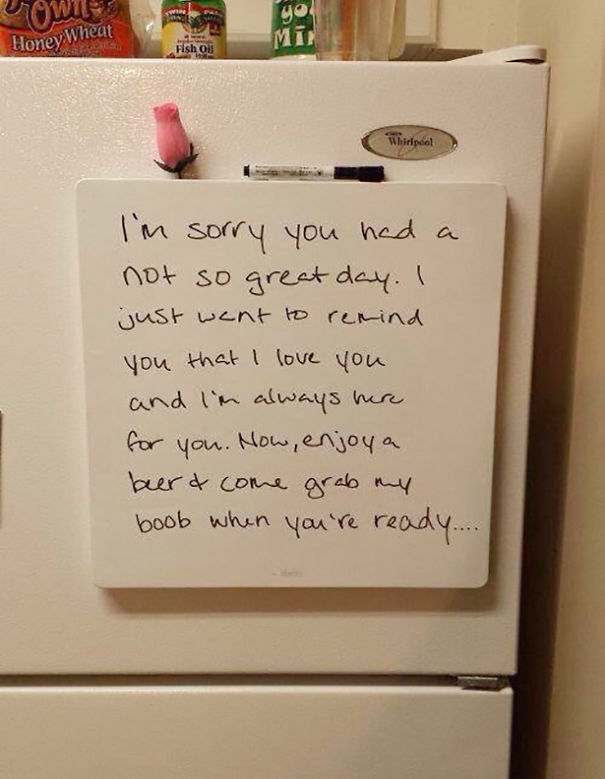 When you have a wife like this, you know you have married the right person. This little reminder of the love will surely bring a smile to the husband's face and if it does not, the invitation at the end will surely be the highlight of his day.
A Good Reply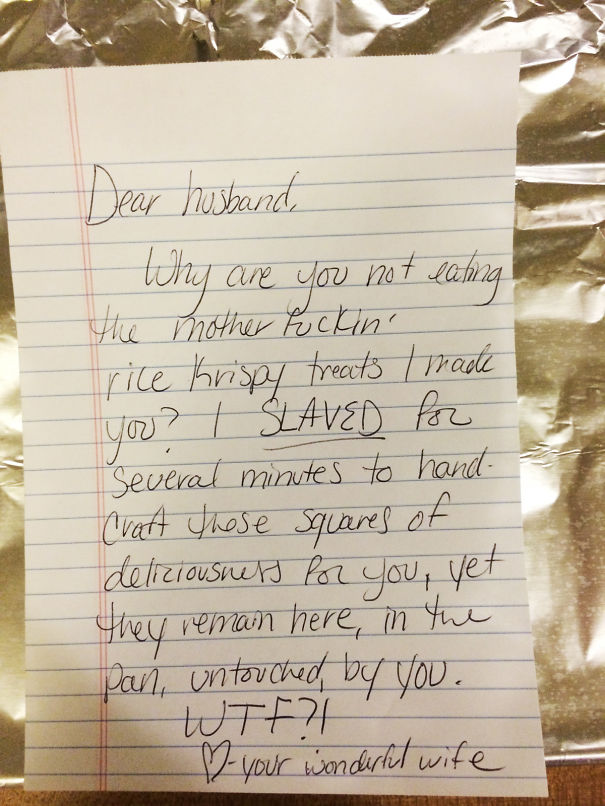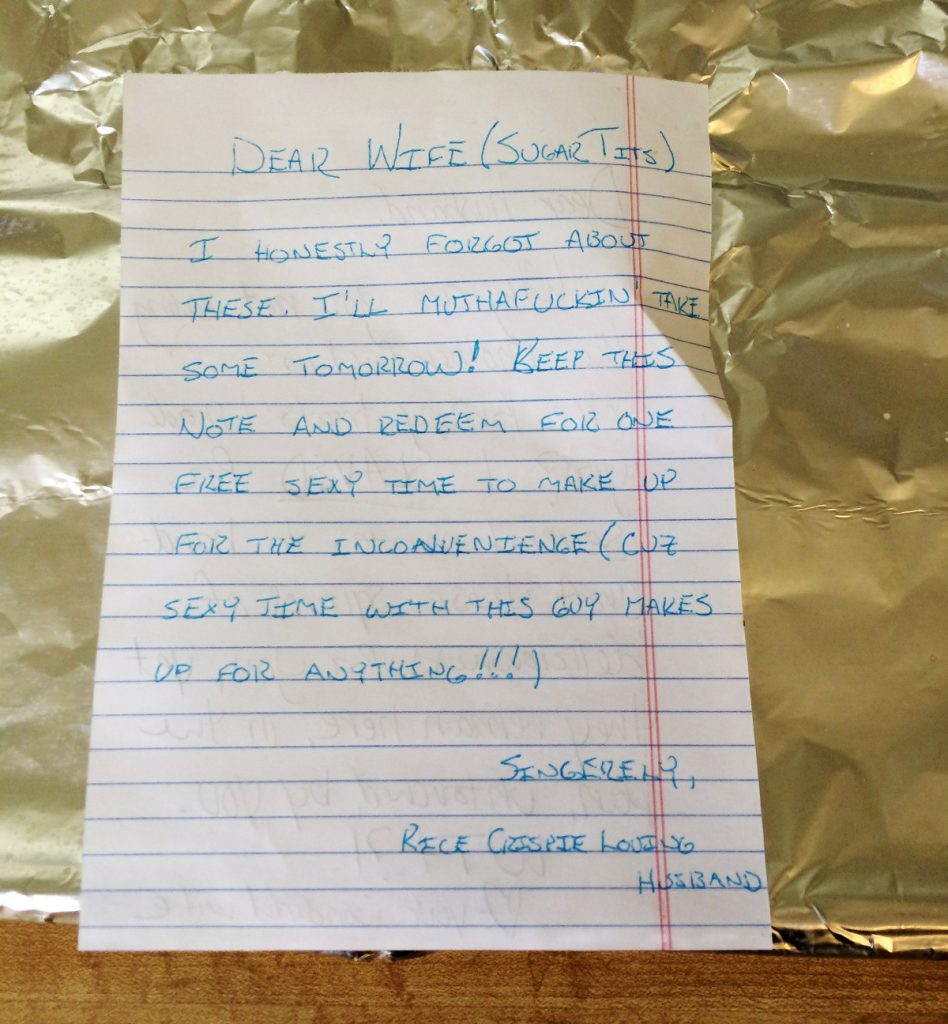 It is rude when your wife has worked hard on making food for you and you do not eat it. When you do such a thing, you know you are in for a fight. However, this husband handled the situation perfectly and gave a rather fitting reply, apologizing for not eating the Rice Krispies and then offering a sexy time as a reimbursement.
When You Want Your Love To Be Eternal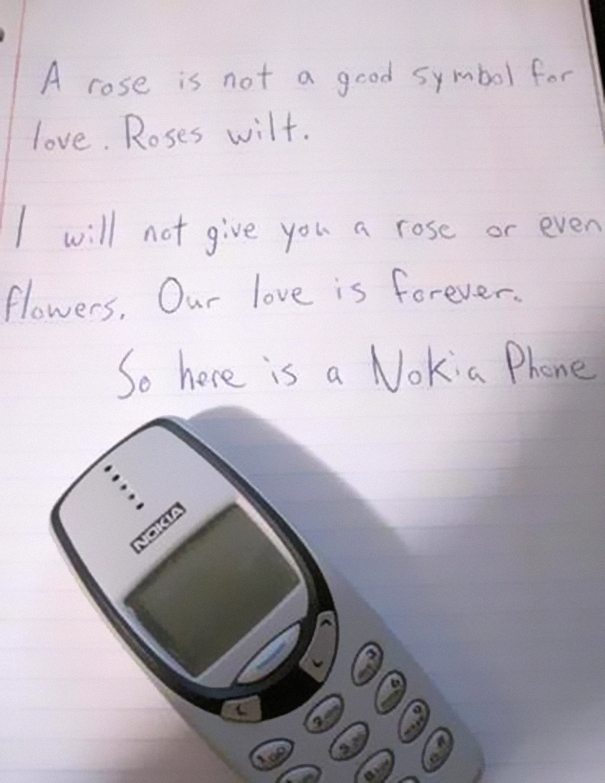 Nothing says eternal love like something that could last forever, like a Nokia phone. Most people give flowers to their significant other in order to express their love but this Nokia phone is the perfect gift for a Valentine's Day.
Encouraging Your Man Right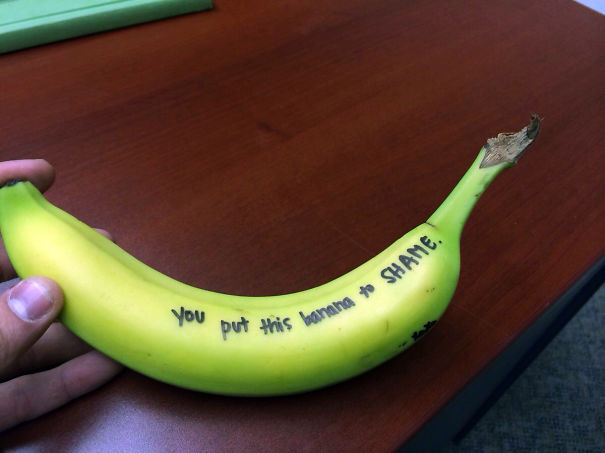 This is one of the best compliments that a man can get. And that too from his wife! We are sure that when this husband posted the picture on his social media, he got quite a lot of messages from his female followers.
A New Definition Of Love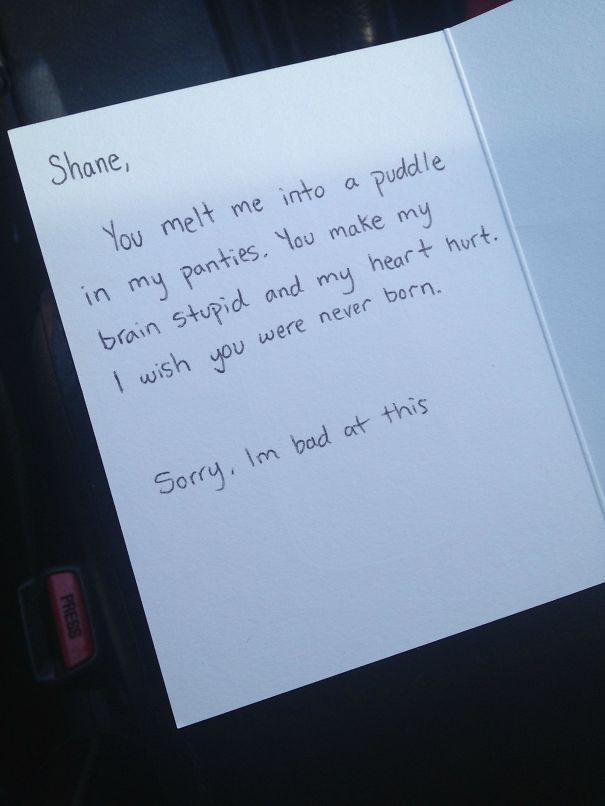 This is quite a love note from a wife to her husband. Her apology at the end of the note was not necessary considering the first line in the note. Shane's wife really loves him and it shows in this note.
When The Compliments Are True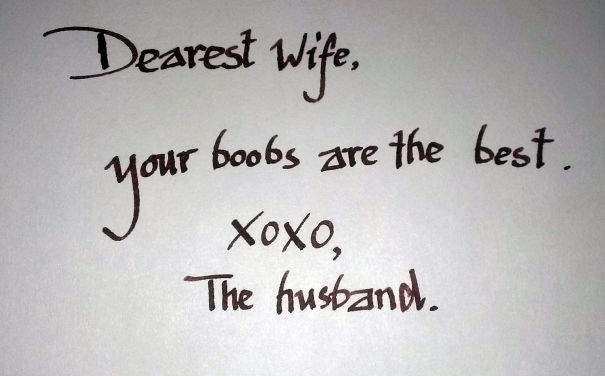 Not everyone is a bard that can string words beautifully to convey a message of love. This husband is one of them. However, he found a thing that could be both true and considered as a compliment and he went along with it.
When You Can't Spend A Minute Apart
Bathroom breaks have gotten longer ever since the smartphones became common. However, little reminders like this can help speed things up on the can and get you out faster.
A Note Under The Door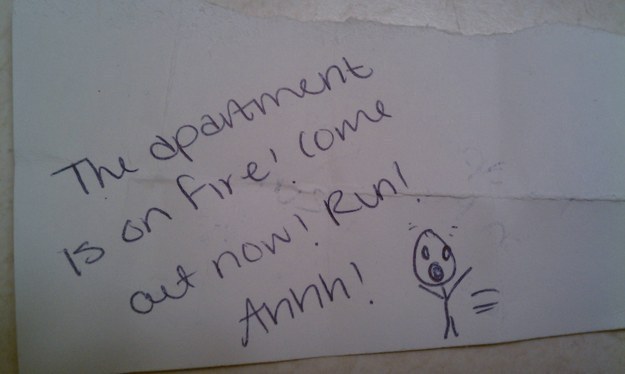 Imagine you are in the bathroom and you are having a hard time pooping. A note like this comes from below the door and you know you have to speed things up. Receiving the news that the apartment is on fire will surely help with the process.
Apologizing For The Little Things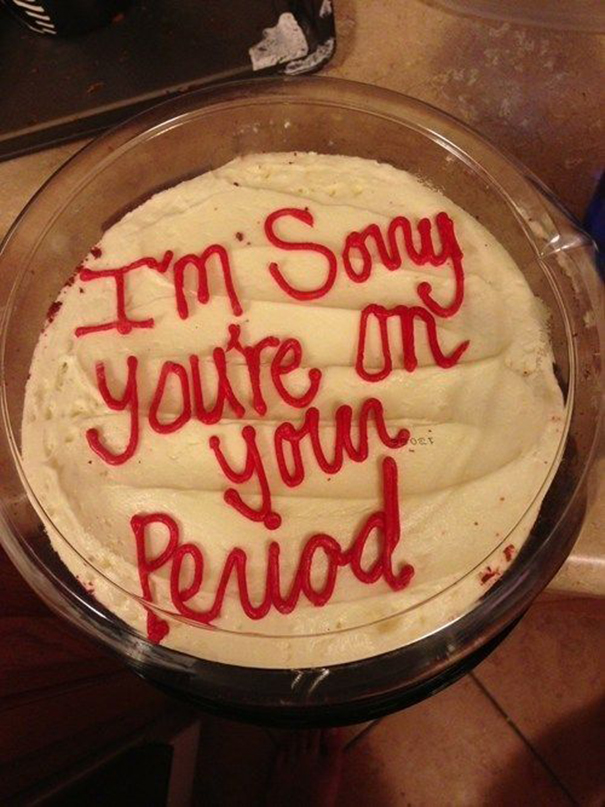 Periods are something that are out of control. They are a force of nature that will come every month. This loving husband baked a cake for his wife in order to cheer her up during her time of the month.
Warning Beforehand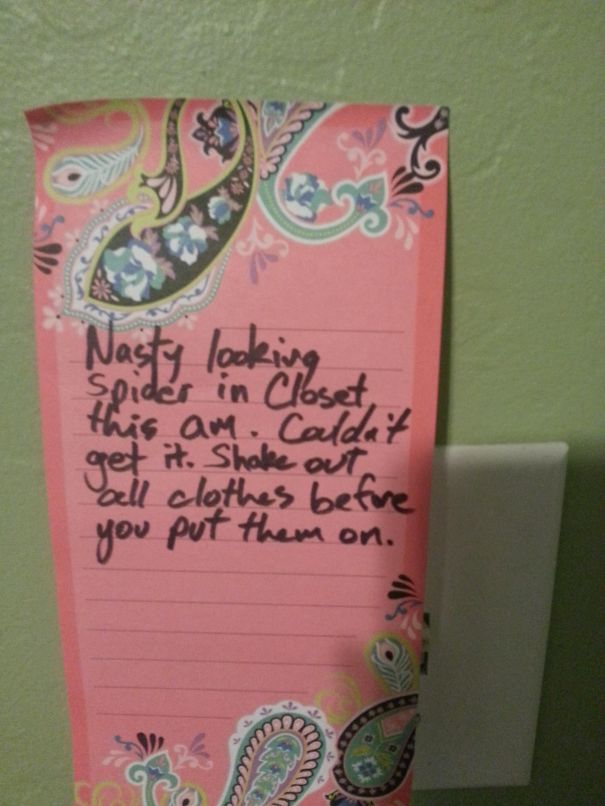 A guy wrote this note for his girlfriend in order to warn her of the spider in the closet. When he was unable to get the spider out of the closet, he decided to warn her of the upcoming danger and asked her to shake her clothes before wearing them.
Love For Bacon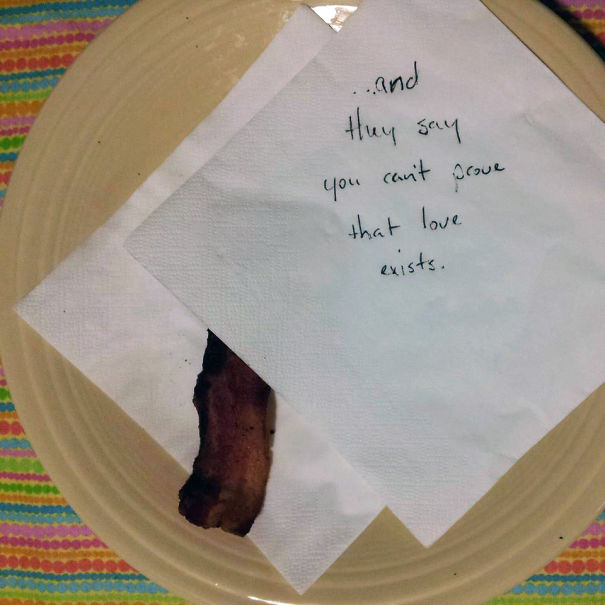 Bacon is delicious and I can eat it morning, afternoon, and night. You do not want to pass up on bacon when it is right in front of you. This was the last piece of bacon left in the house and the guy left it for his girlfriend, proving that true love does exist.
The Pranking Couple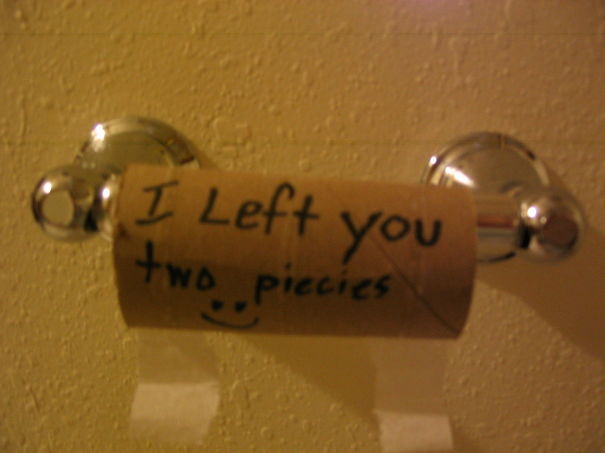 When the toilet roll is almost out, you have got to bring in a new roll because it is the polite thing to do. However, this guy pranked his girl by leaving only two pieces of toilet paper on the roll and scribbling a note underneath.
When You Want Attention
When you do not give enough attention to your wife and are more focused on the television, she will find a way to stop your entertainment. This wife found a way to stop the remote from working and when the husband decided to talk to his wife, she took off the insulation tape.
Scaring Him Off Dirty Entertainment
It is hard to get rid of the old habits even when you get into a relationship. You are tempted to go back to watching adult entertainment. This girl found out a way to stop her boyfriend from falling into his old habits by putting up a wallpaper on his laptop.
Too Tired To Recognize
There are many times when you are too tired to recognize your wife's car. This guy wrote a note of love and put it up on what he thought was his wife's car. Upon realizing his mistake, he put up another note apologizing to all his neighbors.
Get Well Soon
You might be thinking that the couple is rough when they are making love. However, the truth is that the husband had had a terrible accident with the zipper of his pants and his wife was wishing him well for the cut.
Love For Nicholas Cage
Everyone remembers all the heights and trouble that Nicholas Cage went to in the movie National Treasure to find the treasures that he was passionate for. When this wife made a card for her husband, she brought the same theme to the card and ensured her husband that she would go to any length to find her husband in times of trouble.
Love Through Food
A girl who gets you nuggets is definitely a keeper. However, this girl transcended to another level when she got creative with the message inside the boxes.
The Dirty Dishes
This note hits the right notes of dirty talk as well as a reminder for chores. Gary got served with the best love note and he ended up doing the dishes because they asked so nicely.
The Perfect Gift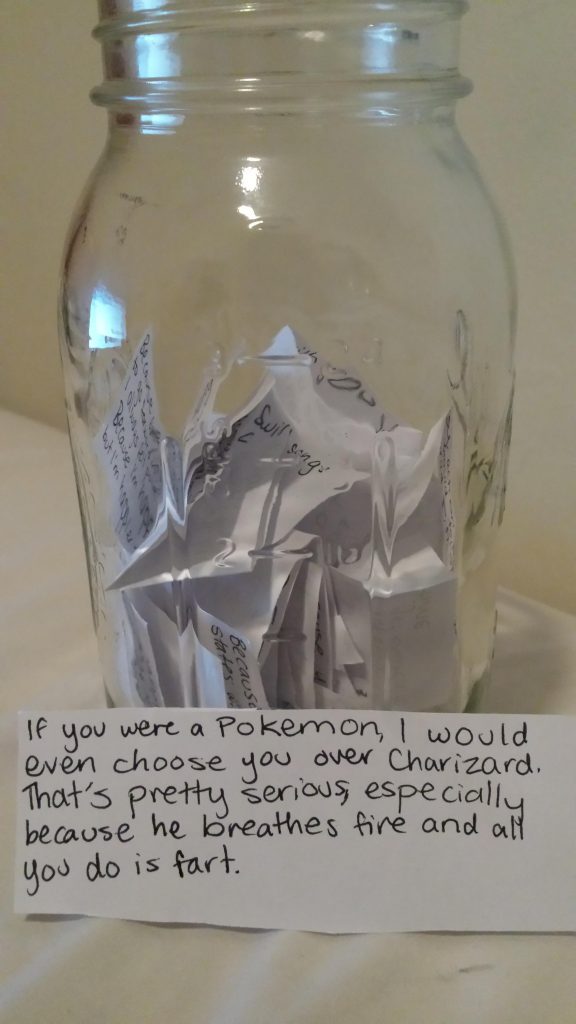 This man's girlfriend was going out of town which is why he cooked up the perfect gift for her. He wrote many love notes which were hilarious and considerate at the same time and put them in a jar for her to read whenever she missed him.
Taking Away The Insecurities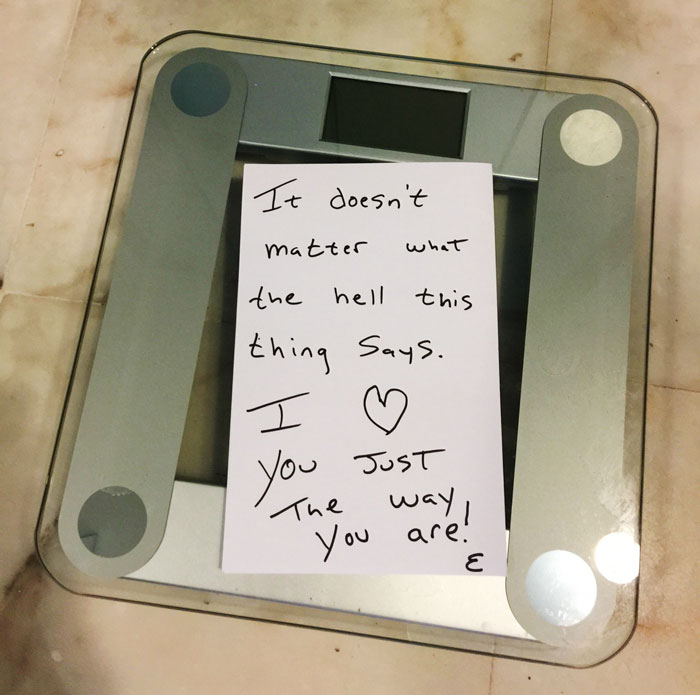 This loving husband knows how to take care of his wife. When she was feeling insecure about her weight, he left a note on the weighing machine that he loved her just as she was and it did not matter what the machine said.
Taking The First Step
This is one of the most hilarious things on the list. The guy bought a notepad to list down the chores around the house and forgot to unwrap it for months on an end. His girlfriend left a subtle hint on the notepad which was stuck on the fridge saying that the first step is to unwrap the notepad.
Finding Love Everywhere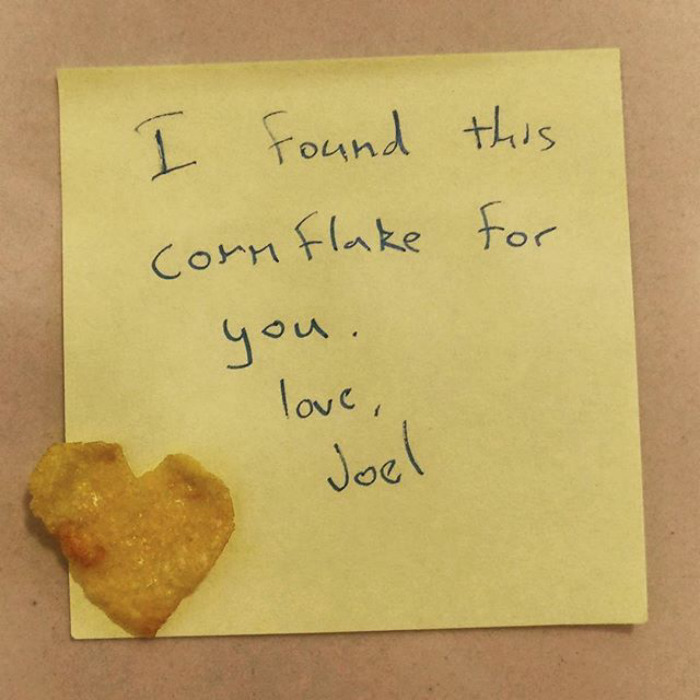 Joel knows how to keep his girlfriend happy. He looks for heart-shaped objects everywhere and then leaves them along with love notes for his girlfriend. It is quite an amazing way to tell your significant other that you love them.
Downerosaurus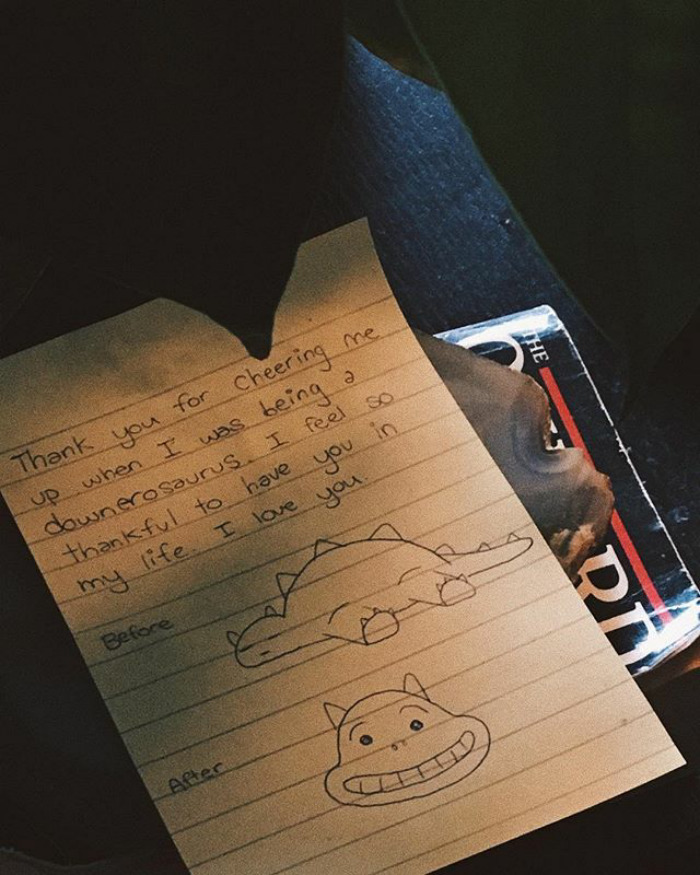 Wordplay comes in quite handy when you are writing a love note for your girlfriend. This guy was the best at it when he came up with downerosaurus and then drew up a sad dinosaur as a before image.
Controlling The Thermostat
Guys do not like it when someone touches the thermostat in their house. This boyfriend liked to keep the thermostat at a low setting in his house but his girlfriend kept cranking up the heat. In order to incentivize the low temperature, he came up with a way to associate presents with the low setting.
Wanting A Signed Document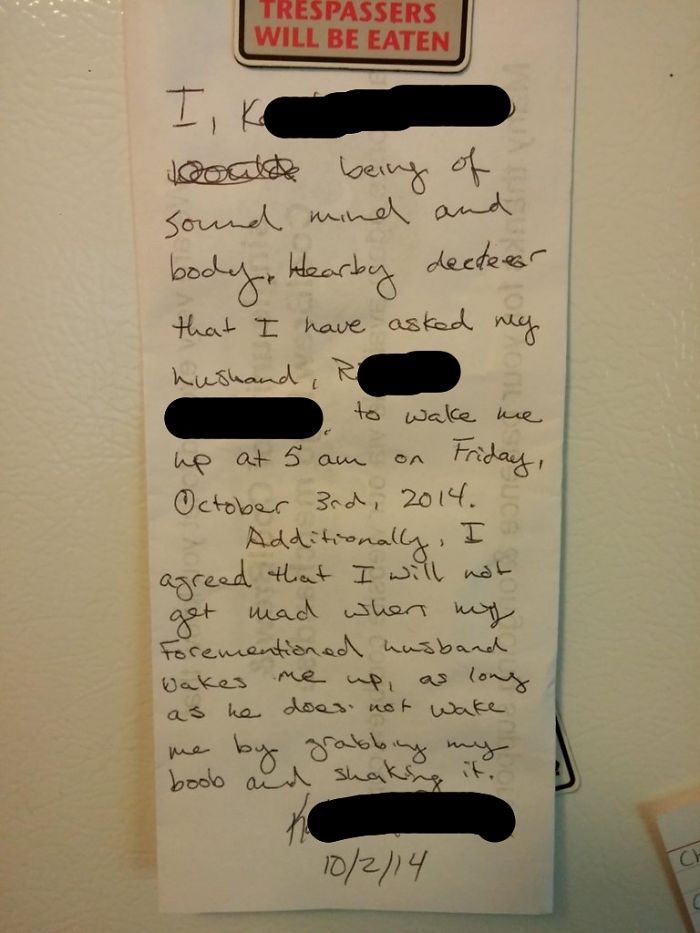 Girls can get quite cranky when they are woken up early. However, this girl wanted to be woken up early on a Friday morning and had asked her boyfriend to wake her up. He did not want to risk the cranky behavior and got a signed document to ensure that.
Food Puns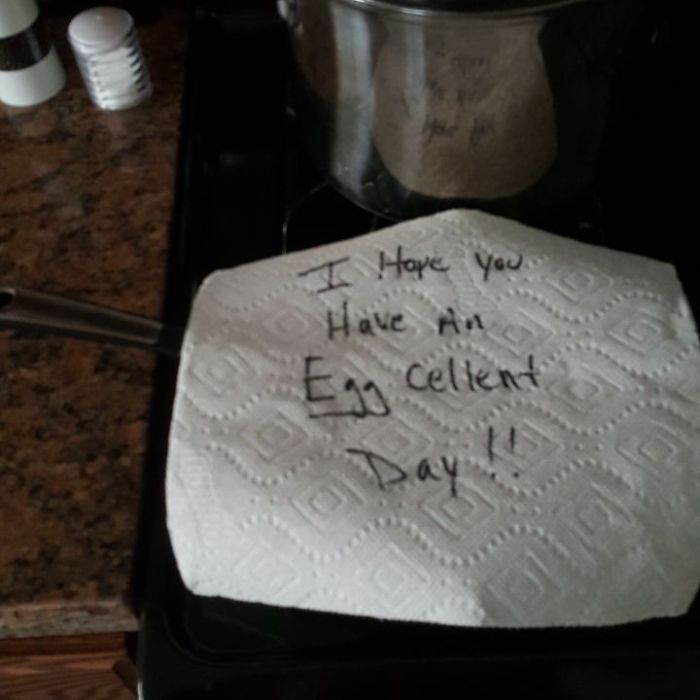 The wife left this note on the egg pan and the husband burst out laughing at the food pun, even though it seems rather corny. Things like this keep the relationship playful.
Giving The Reasons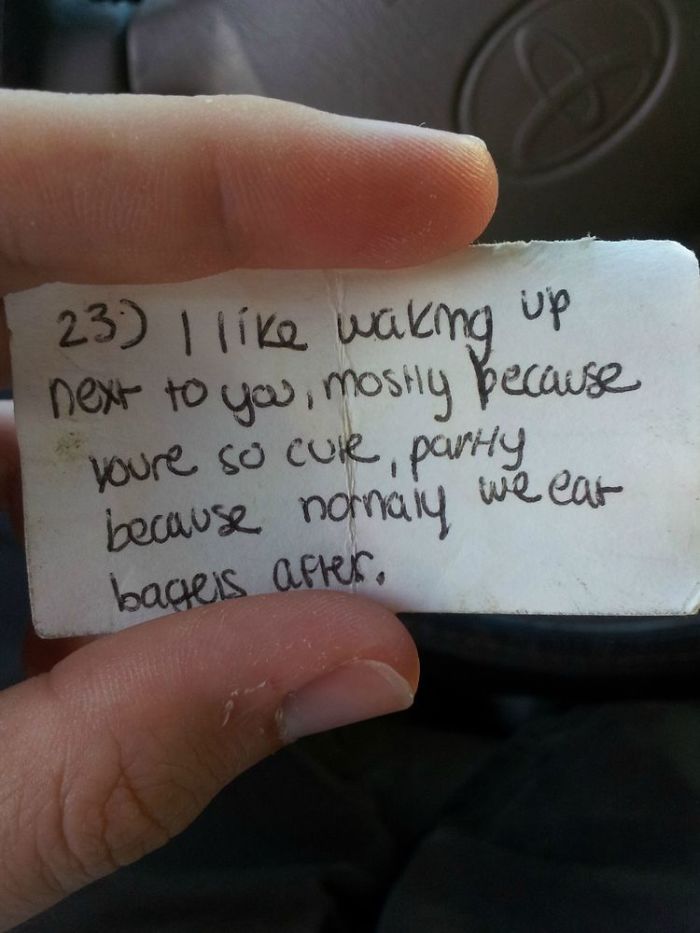 One of the best things about a relationship is that you get to wake up next to the person that you love. The girl had asked for the reasons why her boyfriend loved her and the guy wrote several notes. He added a quip at the end of each one like this one that says that he loves waking next to her because they normally eat bagels afterwards.
The Notes About Love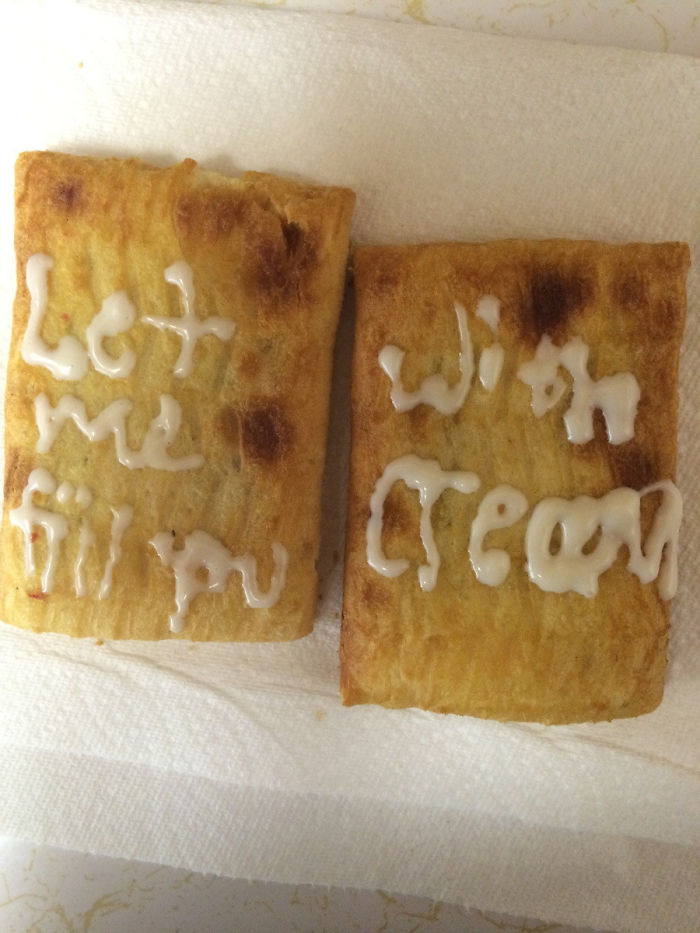 You have to note the fact that you should never let your boyfriend decorate the toaster strudels with cream. He will come up with something dirty or double meaning to decorate them with.
Getting Him To Do The Chores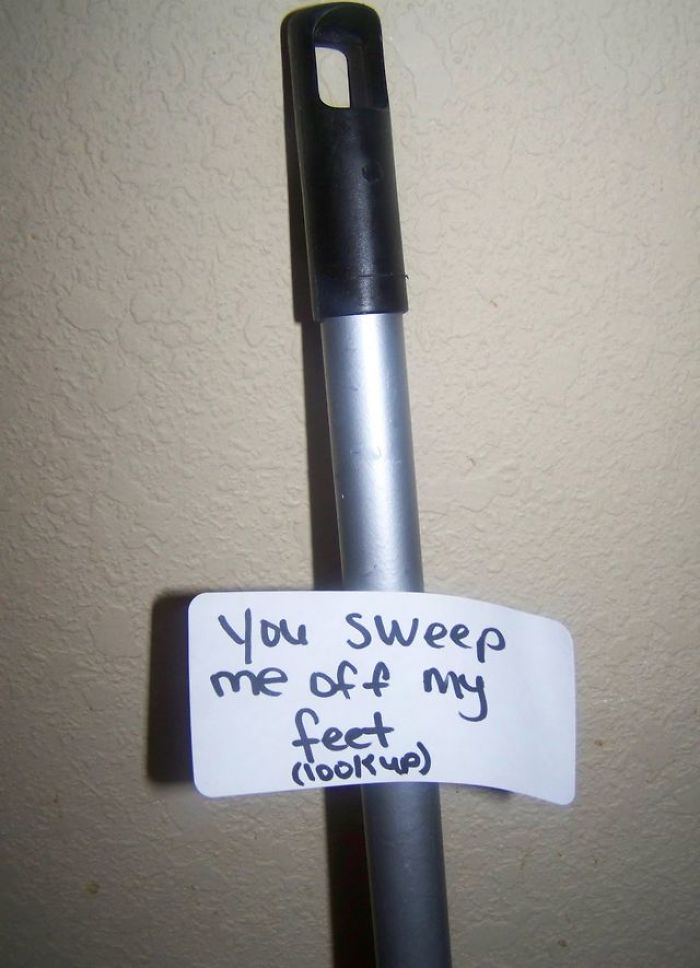 Nagging is not the only way in which you can get your man to do the chores around the house. Sometimes, you have to get the job done with love and compliments.
Celebrating The Little Things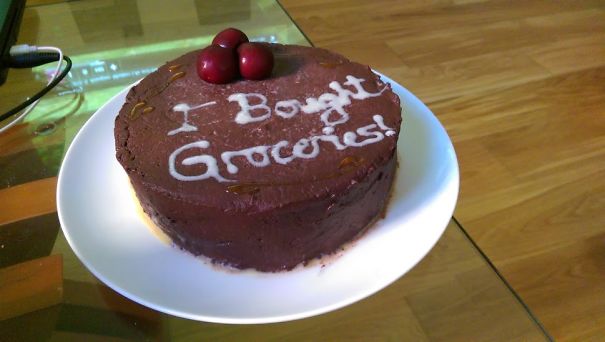 Guys love to celebrate all the little things in life and this guy celebrated with a cake just because he bought groceries. It would be a real treat if the guy had to make a second run to the grocery store because he used them up to bake the cake.
Dividing The Compliments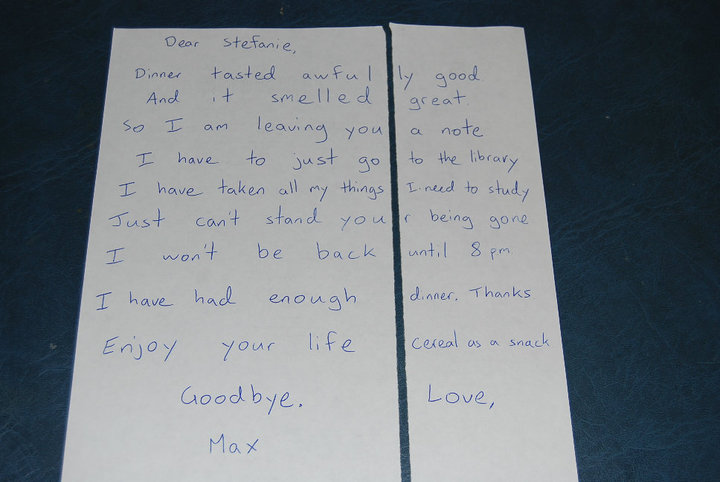 This note was written by a husband for his wife. When you read the note on the left, you will think that there are so many insults in it but when you read the other half, you will come to know that the guy was quite creative with turning the insults into compliments.
Dream Breakup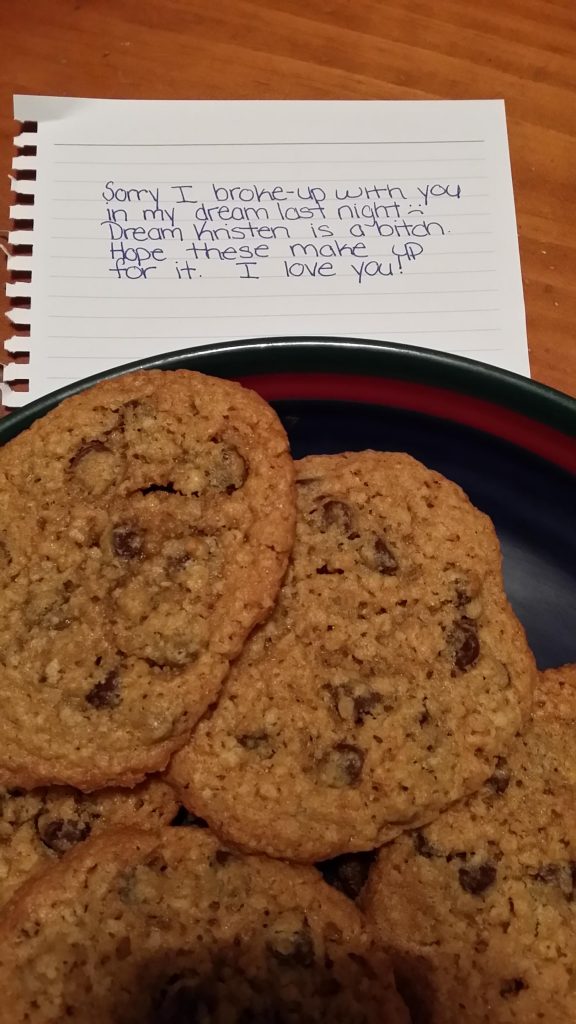 This guy loves his girlfriend too much. When he broke up with his girlfriend in his dream, he apologized to her in real life and even baked her cookies.
Wishing Her A Valentine's Day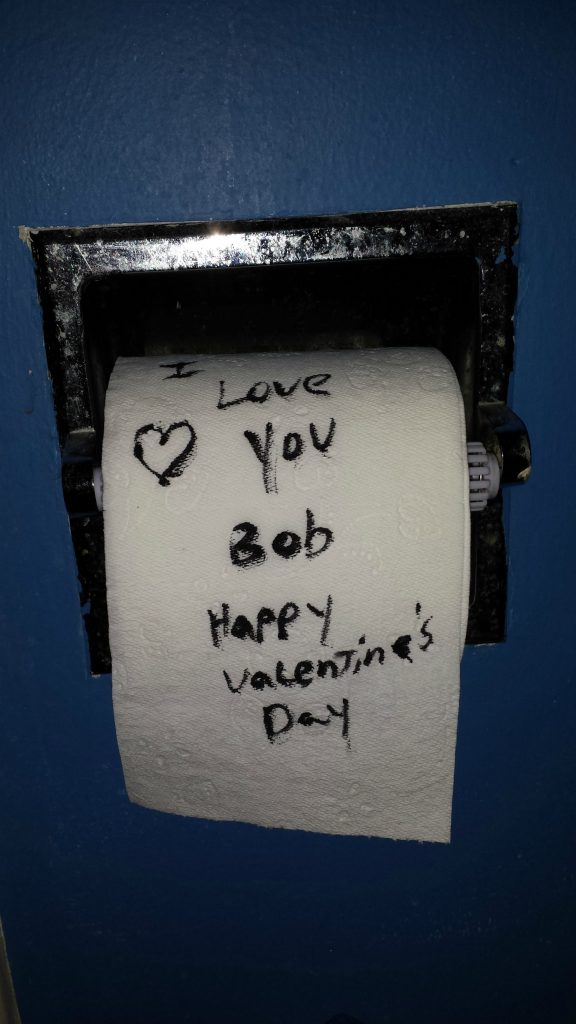 Bob had written a message for his girlfriend on Valentine's Day but she could not find it anywhere. However, she ended up finding the message when she really needed to use the toilet paper.
Love For Mathematics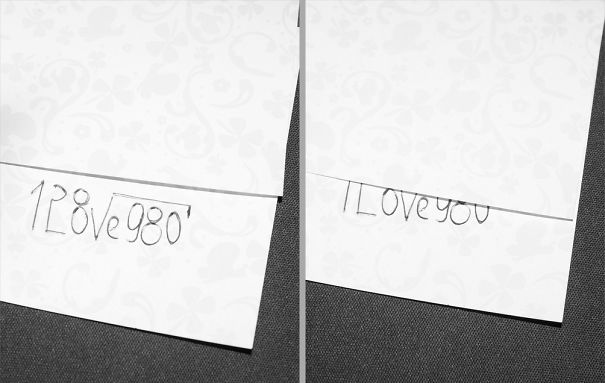 Solving puzzles and cryptic messages can be a lot of fun when you get the result as a note telling you someone loves you. These little things can mean a lot when you get older.
A Good Excuse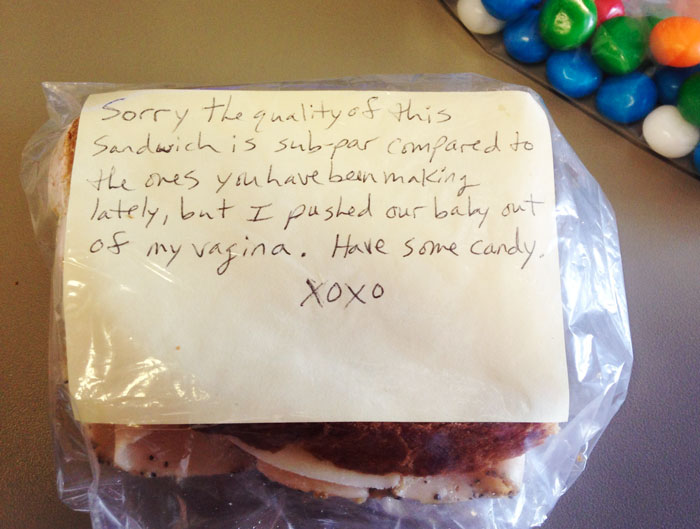 When you are bad at cooking, you have to come up with a good excuse. This girl found the best excuse that she had pushed a baby out of her and she was allowed to be bad at making sandwiches.
Dropping The Hint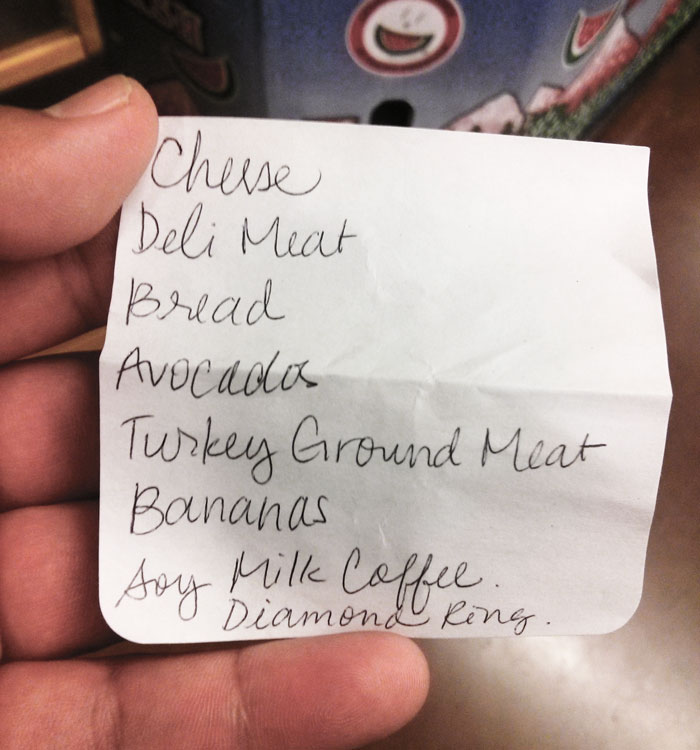 When you are expecting an engagement ring from your boyfriend, you have to drop hints that you are ready for the next step. However, this girl was not subtle about it and asked her boyfriend to get a diamond ring by writing it on the grocery list.
Making The Perfect Comparisons
This is a science joke and it is full of puns. They can teach you things that you previously did not know and also tell your significant other that you love them.
Another Food Love Note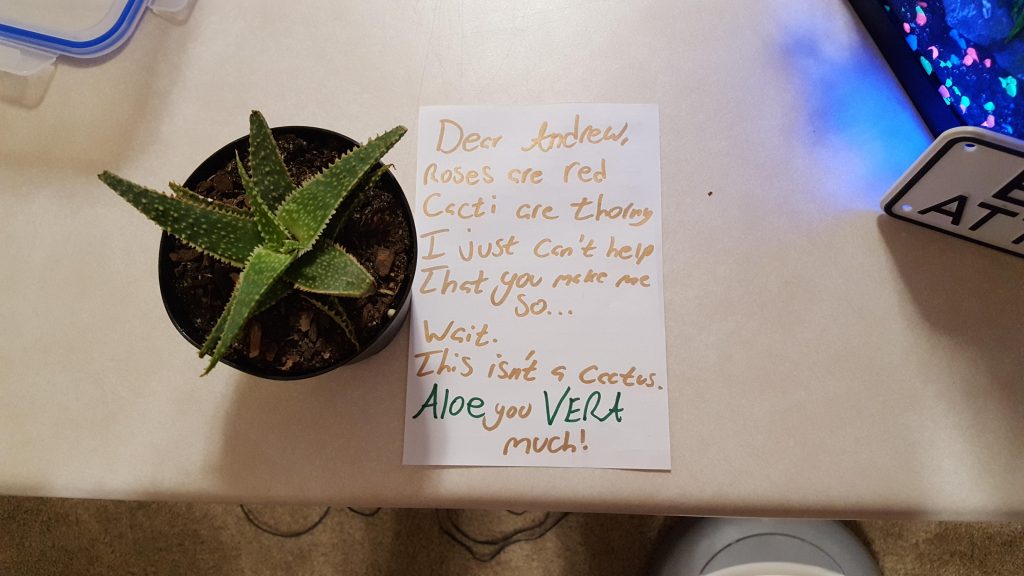 Andrew should have bought a cactus instead of an Aloe Vera so that the poem could have been completed and Andrew would have gotten lucky that night.