}?>
}?>
Picture this: you're lining up at a grocery store, and in your lane, the purchases are being bagged by someone with a disability or special need. All is fine and well, until you hear someone ridiculing and poking fun at the bagging clerk. You are now faced with a choice. Do you speak up and stand up for the clerk, or do you keep silent and ignore the situation? You're about to find out how other ordinary people react to a similar situation on What Would You Do?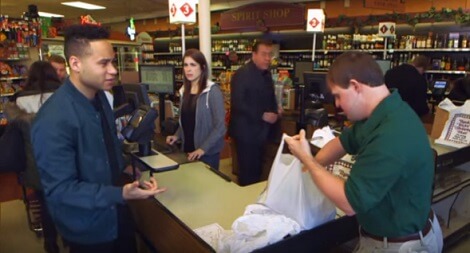 What Would You Do? is, by definition, a situational hidden camera television program. It is broadcast by the NBC and aims to film the way in which ordinary people leading their everyday lives react to situation gone wrong. It tests their sense of moral duty and compassion by determining whether they will help out or ignore the scene unfolding before them.
The scene is staged by Peter, an actor with Down syndrome, and another actor acting as an obnoxious and rude customer having their items bagged by him. The rude customer would yell abuse at Peter, using ableit slurs and warning other customers about him. The actor playing the rude customer starts out as male, but is switched halfway through to a female to see if the actor's gender affects the way the customers around them react.
The customers, unaware that their every reaction is being recorded, respond to the rude customer in ways that might just warm your heart. And wait till you see the last person to react!
Take a look at this video!
Actor Peter is trying to raise awareness about those with Down syndrome and other special needs, and this video tells us how important that message is. Go on, give it a like and share! You know you want to!
Feature Image Source:Â What Would You Do?