Parenting is hard as hell. There is always work, work, and more work. Luckily for us, moms and dads who have the experience of having one or two kids at home, are splattering their woes over social media. You can see them tweeting their everyday child-related struggles over social media, most of them being on Twitter. They explain how parenthood comes with a lot of challenges, right from cleaning those soiled diapers to make them eat.
These tweets have been compiled by us should definitely strike a chord with the exhausted parent. Sleep-deprived and driven to the limit by toddlers who are less than one-tenth their age, they just need a break. And if you are a person who doesn't have a kid, they might give you an insight into becoming a parent –
1. No Children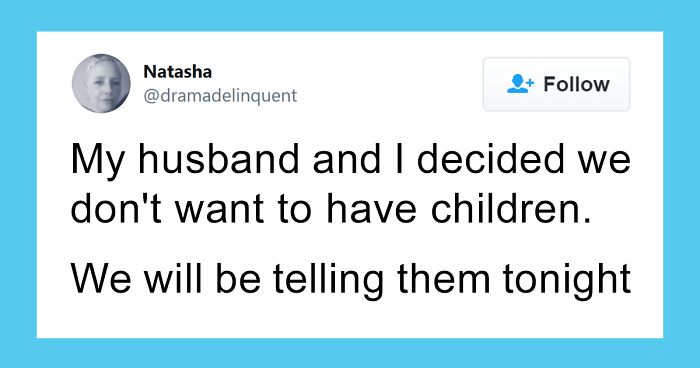 If you didn't want the children in the first place, then you should have used contraceptives. Not only that, you should apologize to each other for sleeping and fornicating with each other. But what's been done has been done, so you should be prepared to face the consequences.
2. Fart On The Floor? What Does It Even Mean?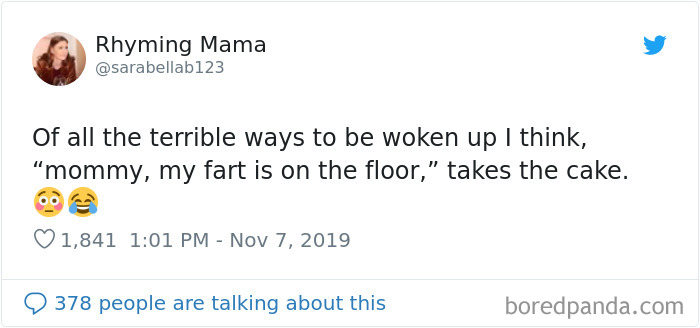 Come on, what does that even mean. The worst thing is that you don't even get a moment of peace so that you can catch up on your sleep. What's even worse than that is that your child wakes you up with the most gibberish excuse ever. You wake up dazed to a big and sloppy strategy and yech! it stinks too.
3. Thanksgiving Surprise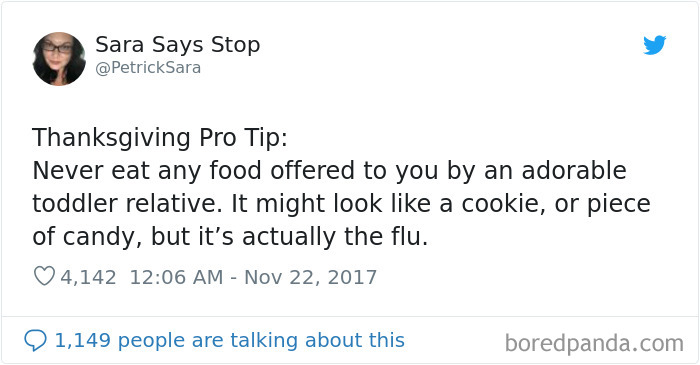 Toddlers are not great on hygiene and you know what they are also innocently mean. They could offer you a chocolate chip cookie, but you should consider it before you accept it. That's because your health depends upon your caution. Don't allow them to stick it to you.
4. Nothing Means A Lot Of Broken Things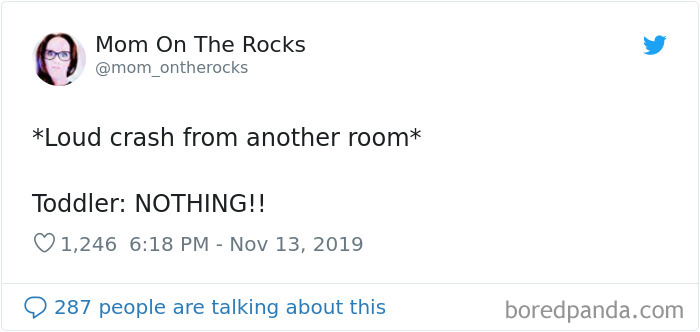 Just when you thought you had finished off everything, you hear a loud crash and you pray your precious and expensive vase or your chinaware hadn't found its way to the floor. Just then you get a reassuring call from your child who says he's/she's done nothing. That means that there is certainly something wrong.
5. Kids Of These Age Can't Live Without Smartphone Games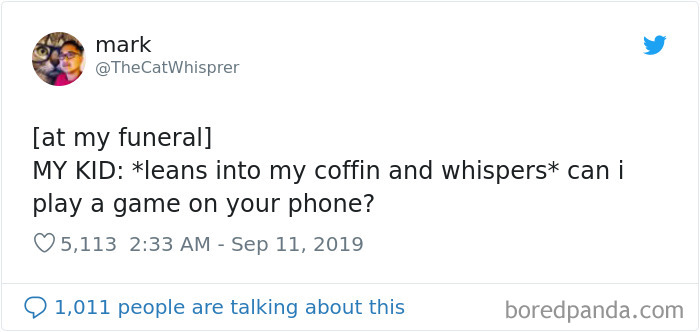 Kids these days cling to their phone so much, you wonder whether the kid and the phone have been stuck together by superglue. Even when you are in the middle of something extremely important, they would want your phone for PUBG chicken feast or candy crush.
6. Always Have A Sanitizer Handy
Kids of any age have a habit of putting their fingers in places where they do not need to. Be it the nose or the rear crack, they will dish out a shitload of bacteria with them. So what do you do? Just keep a sanitizer handy. And do not allow them to come near the kitchen. Otherwise, you are yourself responsible for getting your food contaminated.
7. You Are Never Their First Priority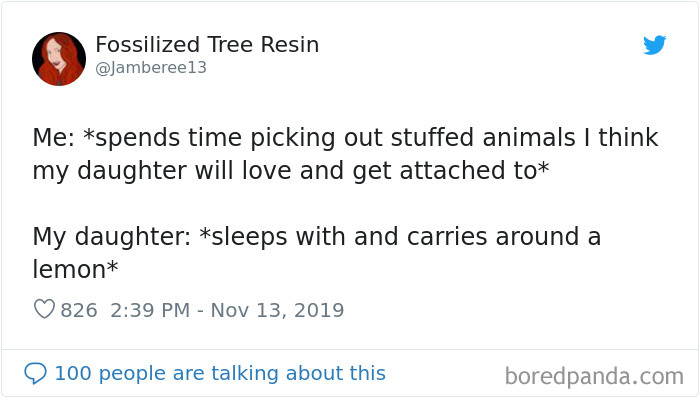 When you will have, or when you are about to have your own children, you will always pick up toys for them. Maybe they would like this or that. You try to buy the best. When they are old enough to play with them, they will choose something else and something that does not even qualify to be called a toy.
8. Their Stupid Fetishes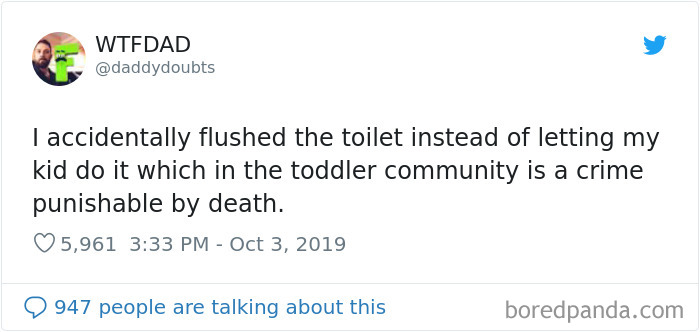 You actually wonder what is it with kids and the toilet? When they are young they play with the crap. When they become old enough to manage their own potty business, they have a fetish for flushing their goods down the toilet. But wrath will strike for sure if you flush it for them.
9. Why Do You Even Need To Take Your Child In There?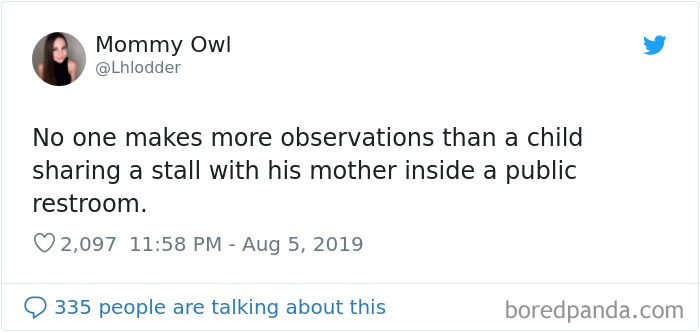 Nothing can be more awkward if your child becomes a mini version of Sherlock in the bathroom. "Oh Mom, look at the lady there, she's so fat!" or "Mommy, didn't you wax" and whatnot. You cannot predict what is coming out of their mouth. It would be better to tape their lips before they even blurt out a disastrous monologue.
10. Children Are Smart…And Always Hungry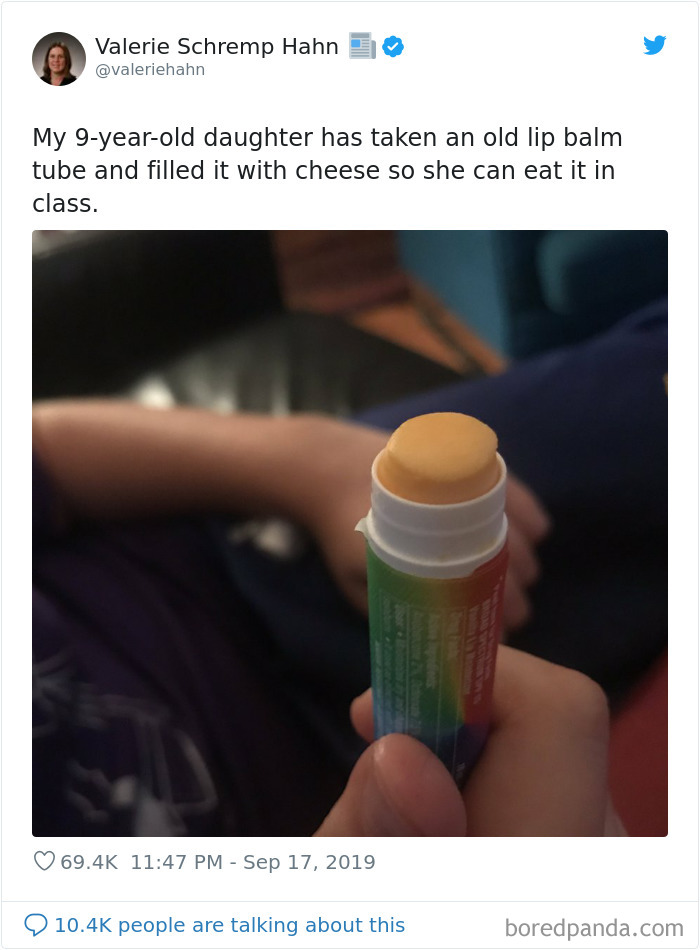 Children have some of the sharpest minds. They use their brains to do the naughtiest of things and you wouldn't notice any of the mischief either. That is so smart of her. BTW, children are always hungry in their growing phase. They need food and cheese too. It is full of proteins.
11. The Hard Truth That You Wouldn't Want To Confess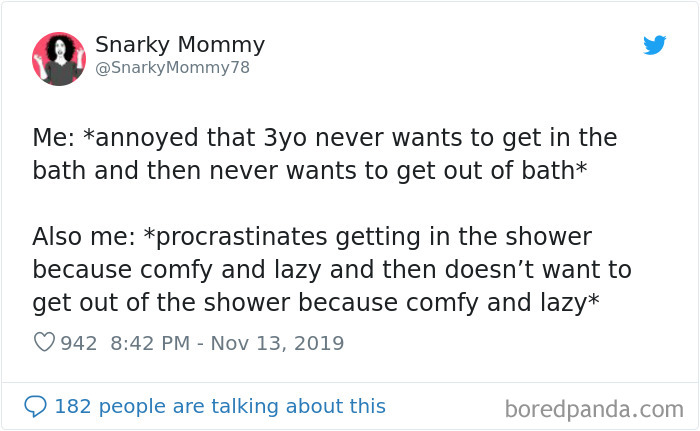 Children always love to play in the water. It does not come as a surprise that they will take forever while having a bath. Their toys in the jacuzzi and they are in their imaginary world. But once when you get a chance to hit the bath, you also would behave in the same manner as a child.
12. You Have To Lie Sometimes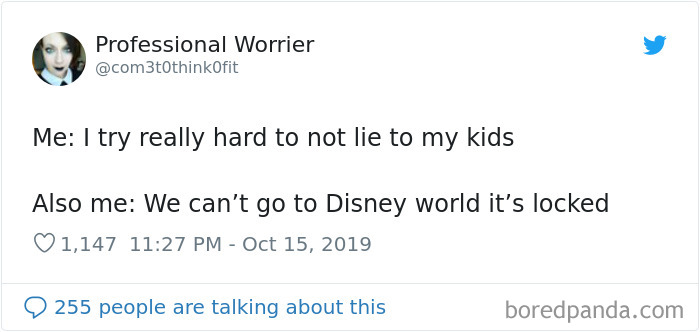 Children are always pestering you for one thing or another. They love it when you crumble down to their demands. But you cannot cede to every damn thing they want. But it is a hard job to lie to them. So you come up with the silliest of logic to convince them of things that aren't actually existent. Come on, who would lock Disney World?
13. Why Don't Children Like Pants?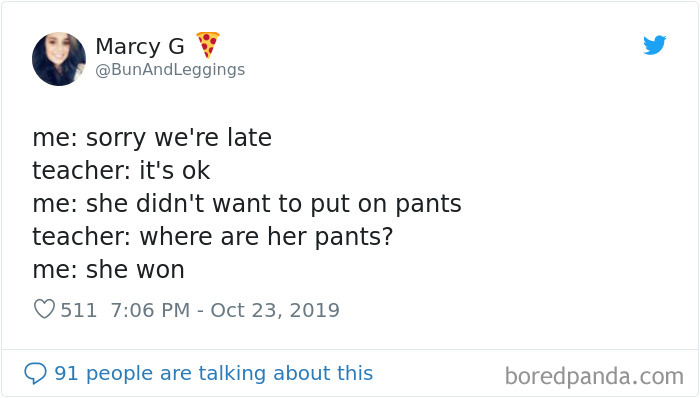 Most of the kids are allergic to pants or undies early on. That's because it is way too uncomfortable for their tender skins. It's only when they grow up, they realize that staying in the buff is not a good idea. But at this age, it is a daunting task to get their pants on them. You just have to wrestle them, pin them or do whatever it takes to make them wear it. But then they open it and throw it away.
14. At Least You Can Scare Them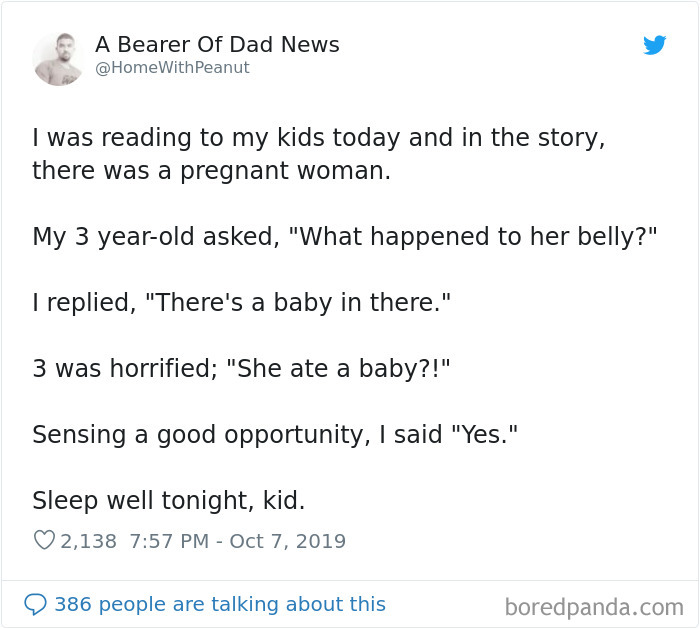 Children will never figure out what pregnancy is, or how babies are made. So, parents have their share of the fun by telling them all sorts of scary stories when Mom gets pregnant with the second. After all, the hell that children make you go through, you love to get back one at them. Revenge is so sweet!
15. They Love Their Candies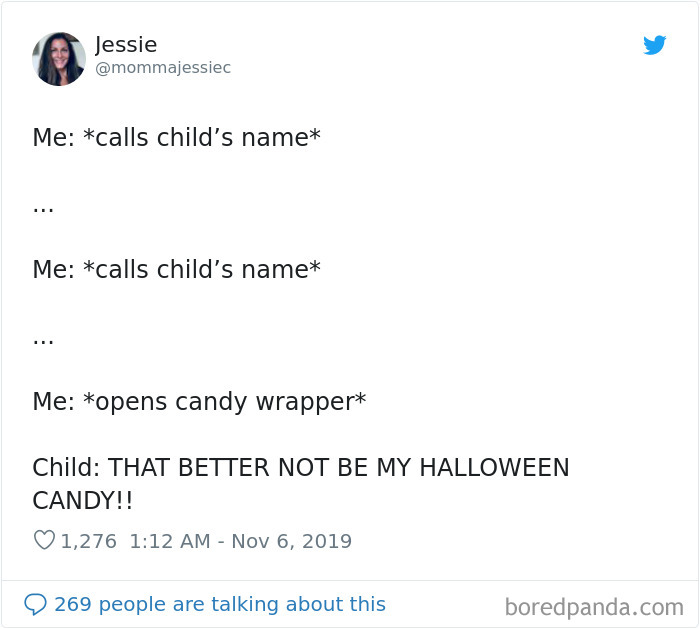 Children love their candies so much, they cannot bear parting with them. So do you know what they do when you eat one of theirs? They go to war, and you are about to face your child's wrath for eating what is theirs. Just allow them to have their candies and the cavities too.
16. Believe Me, It Is, All The Time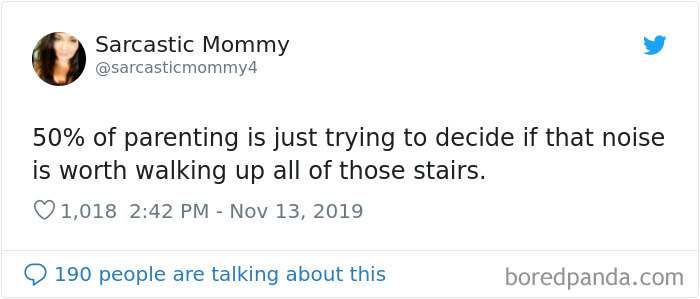 With children in the house, you cannot guarantee yourself a peaceful moment. They will break something or do something crazy with their crazy brother. If you hear some unwanted clunk in the house, which is loud enough to reach your ears, just check out what it is. And keep the phone in your hand, just in case you need to reach 911.
17. They Are Cool With Turds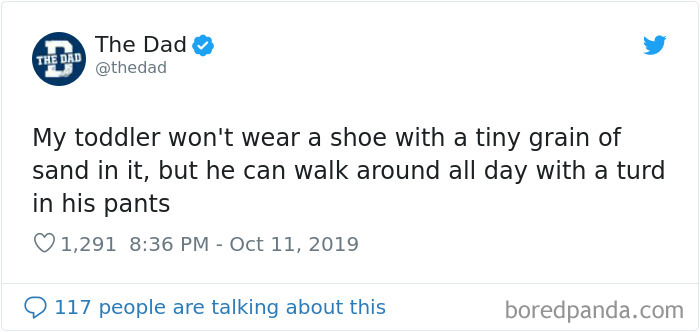 Yeah, they wouldn't want to wear the shoes if anything is biting them. But they wouldn't react or show any signs when they have soiled their pants. You only come to know that they have done their business when you get that silly whiff of crap in the air.
18. I Have Not Even Started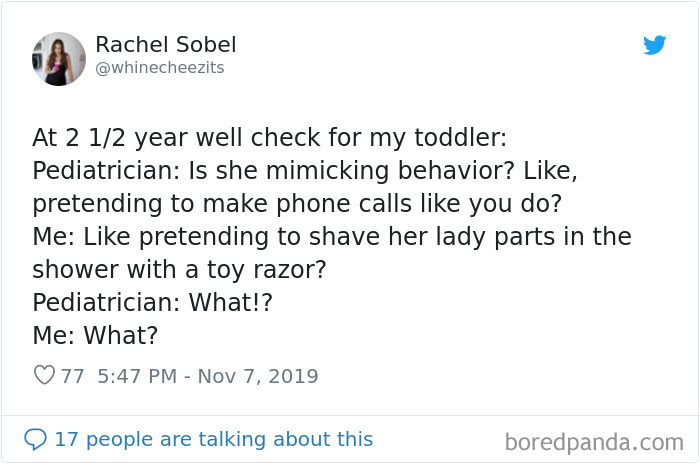 When we say children copy their parents doing something, then we say they mimic them doing everything. That is why you have to be careful to lock the doors while you are having a bath or making love. You wouldn't want them displaying what you do at home in front of the whole world. Just be careful, will you?
19. The Songs Have Their Own Lyrics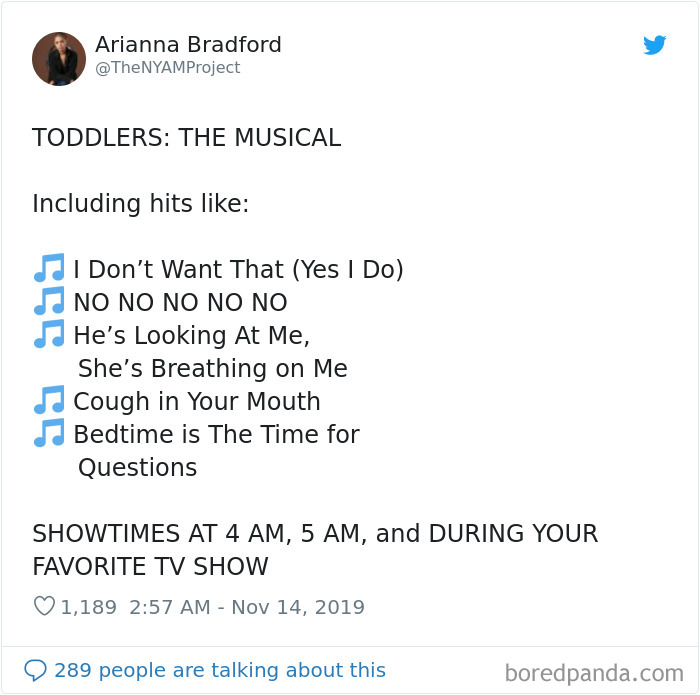 Whenever you are watching your favorite daily soap on TV, your children make sure you do not even get to watch a single scene. In fact, they start with the drama of their own. These dramas have their own songs and their own lyrics, which are in fact full of their rants. Life is so unfair!
20. There Is Supposedly No Silence In A House With Children In It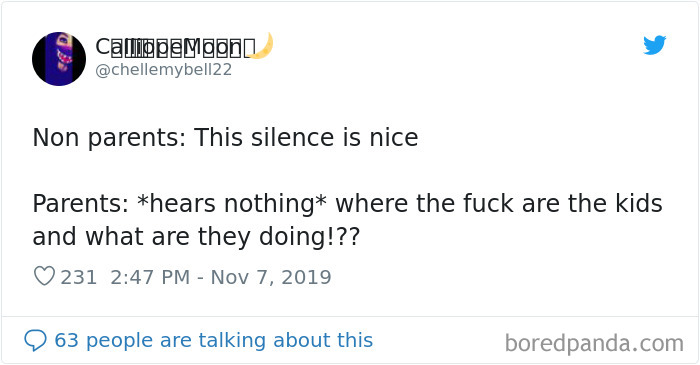 If a house with one or more toddlers is silent, then there is something wrong for sure. Children are always fighting, yelling and creating a racket among themselves. So, if it is the other way round, consider it as a silence before the storm. Its time you checked out whether a disaster is about to strike.
21. You Are Lucky, You Got Away Cheaply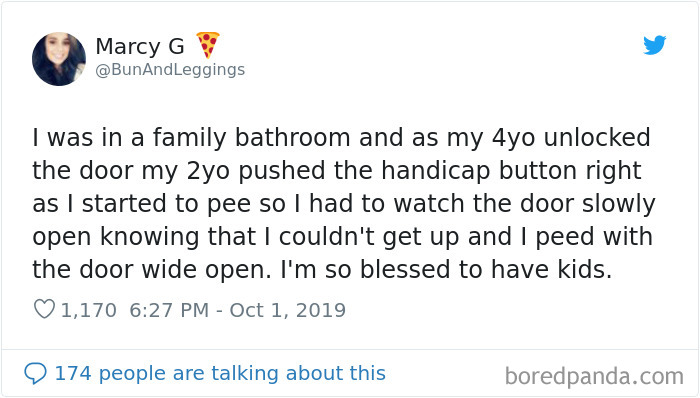 Children have no sense of privacy. If you do not have a habit of locking the door to your bathroom when you are taking a leak, then you should be cautious. There is always a chance that the whole world will see you doing your business. And that is not a nice thing.
22. No, You Are A Mother! Children Are Born Criminals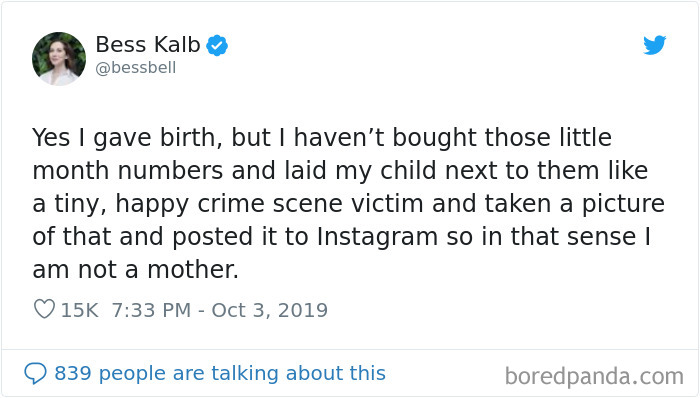 Believe me, you are not the first one to enjoy these guilty sins. After all, children are always making your life hell. You also need to get one back at them. And just scour over Instagram, you will find many children whose Moms dress them as criminals. Just say, you did a prep for Halloween or something, but do not feel guilty at any time.
23. Yeah, Every Mom Understands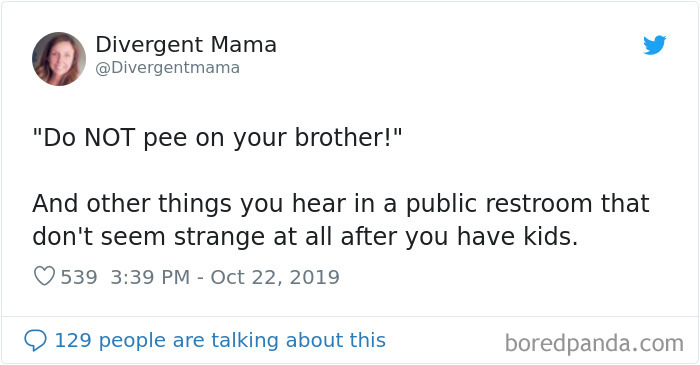 Ah, the crazy world of kids has a lot of novel catchphrases. They are full of fresh and undiluted content, which evokes mirth later on when you are on reminiscence mode. They can do anything and by anything we mean anything. You feel sorry for mothers all around the world.
24. Being Mom Is A Strange Phenomenon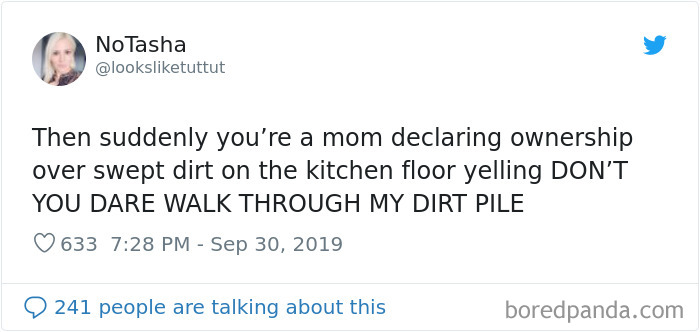 When you are a Mom, your child does anything in their power to drive you nuts. In fact, at times you would hear yourself speaking gibberish which does not even mean a Goddamn thing. You simply wonder if you are in the right mind. Believe us, you are okay, just overstressed and overworked.
25. Ouch, Truth Hurts!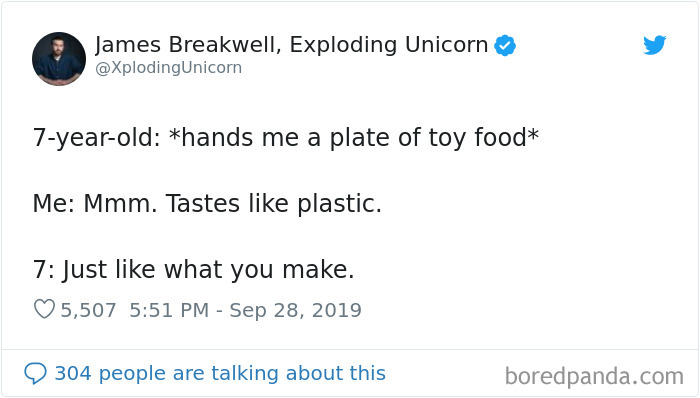 You always have to play with their dolls and have those fake and imaginary tea-parties with their plastic friends. But you should never try to be smart with them. You never know when your smartness would backfire in your own face. And one more thing, you need to learn to cook better too.
26. You Need It If You Have To Handle Two Monsters At Once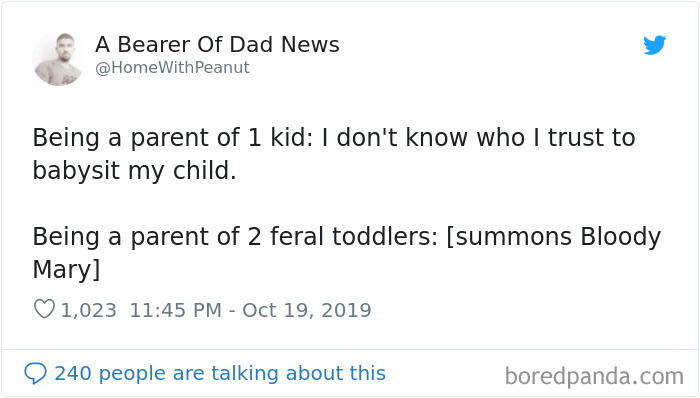 When your first child is born, you are always paranoid about their safety. But when you have two children at home, you know there is a chance of chaos breaking out. Babysitting two mischievous toddlers require a lot of guts. Even the scariest of ghosts would go crazy handling them together.
27. They Could Make A Business Out Of It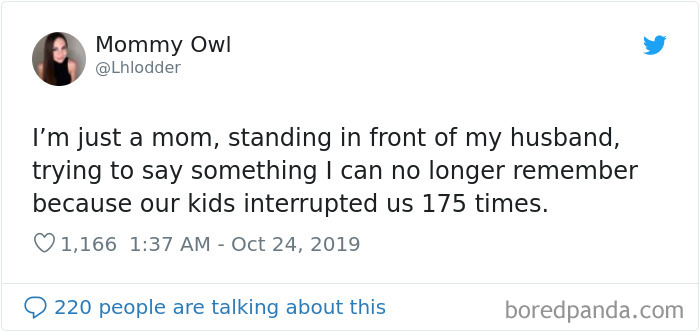 Did you know that according to the US preamble, interrupting is a baby's birthright and they shall have it? Come on, you know we are joking. You need to just learn to live with interruptions.
28. Yeah, Art Flows Out Of Kids Like Water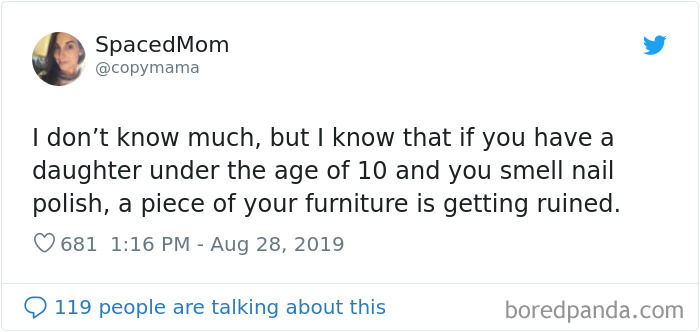 Your baby girl loves to copy her mother. They look so adorable when they mimic you applying nail paint. But if you smell nail paint in your house, out of the blue, be pretty sure that the bottle is open and they are going to smear their nails, themselves and a piece of furniture with nail paint. Just keep the nail polishes out of their reach, will you?
29. The Lego Bricks Prick In The Rear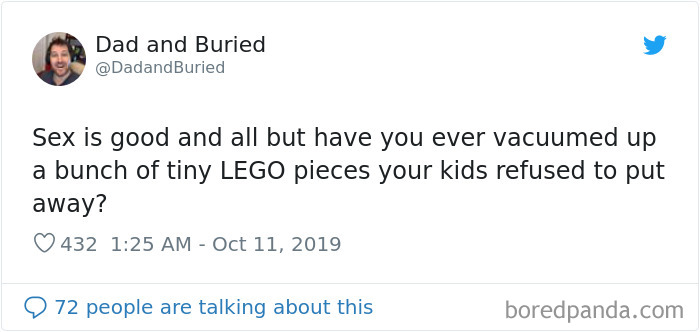 The children always leave their lego pieces lying around, here and there. So if both of you are planning to go romping in the bed, just make sure there are no lego pieces lying around. They could prick bad, and bad as hell. So, just vacuum the room before doing it.
30. A Kid's Mood Swings Are Worst Than A Woman's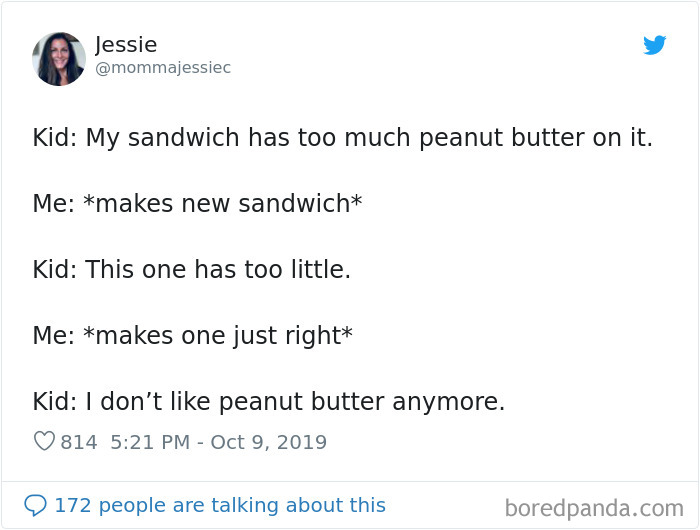 Children have the moodiest behaviors on the planet. Sometimes they will like one thing, the other times they will prefer something that is just the opposite. Even when it comes to making a simple PBJ sandwich for them, they want the ingredients in the right amount. Sometimes, the peanut butter is less, sometimes it's in excess. This goes on and on until they don't like it anymore.
31. Children Behavior – They Do What They Are Told Not To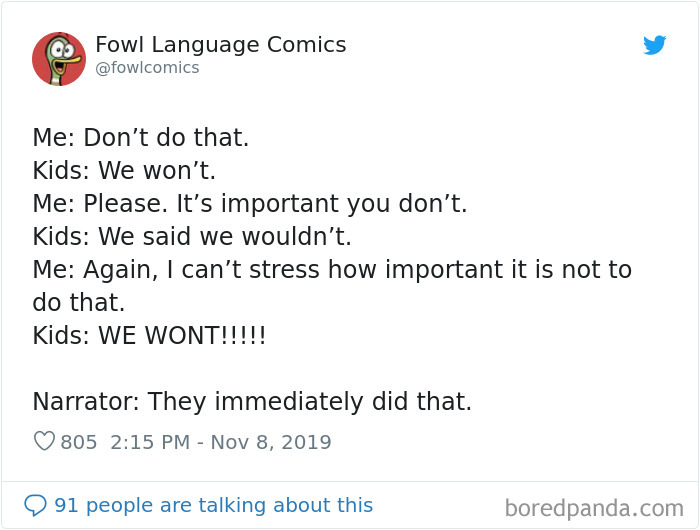 If you ask a child not to do a specific thing, they will do just that. Obedience is not their forte. They will do anything in their power to do things that would cross the line. Believe me, you do not want to ask them not to do anything. But if you are smart enough, you could turn things to your advantage.
32. You Can't Defy A Kid's Logic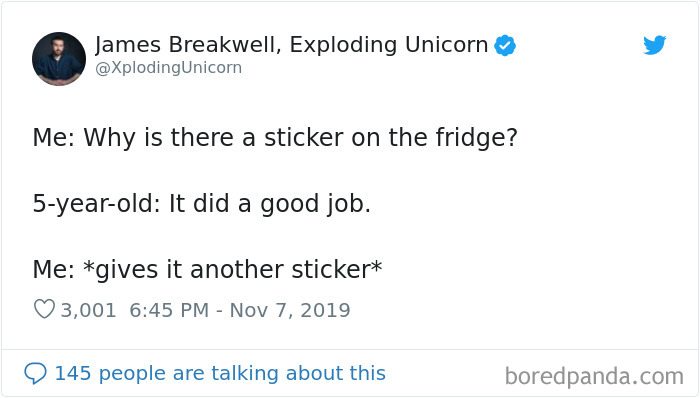 You reward a kid when they have been nice. The kids reward others when they have been nice. Aww, so adorable. But do not freak out when the others are nothing but inanimate objects. Kids do not seem to have any sort of disparity in their eyes. They treat everybody equally, without any sort of bias.
33. Does God Even Sleep, Junior? But You Seem To Have A Logic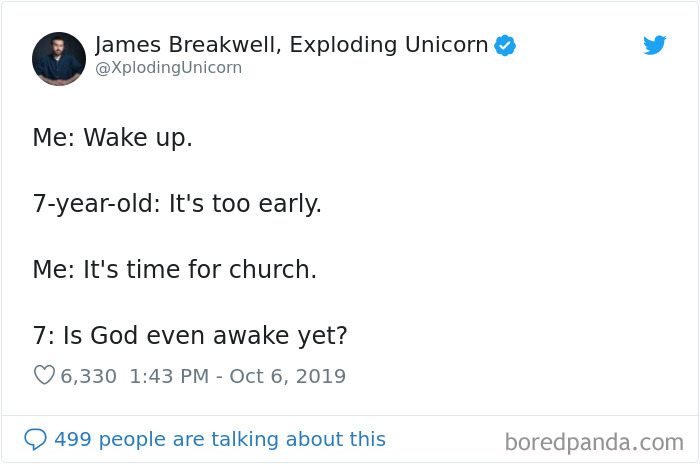 Getting a child to wake up and get him/her ready for church is one hell of a task. You would never even imagine that this was going to be an easy task. What surprises you even more that they would give all sorts of logic for being in bed. Sometimes, these are pretty logical and you do not know how to respond to them.
34. Yeah, Lay On Him, Kid!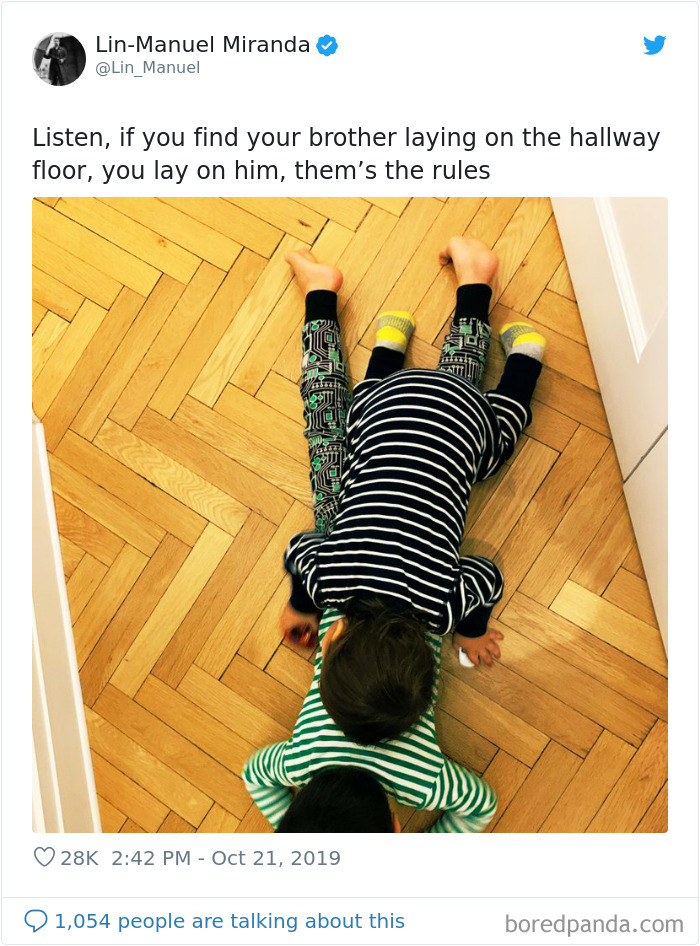 Get up kid, that is not a rug underneath, it's your baby brother. Allow him to have a breather! Kids do all sorts of stuff. Laying down is one of them. Just keep in check that they are not laying on anything and everything. They have their own rules. Yeah, them's the rules.
35. Parenthood Is A Happy Disappointment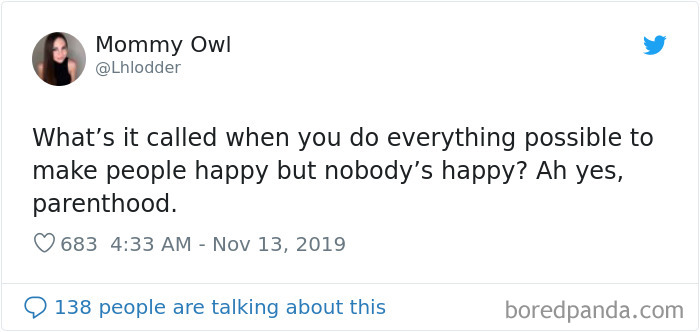 Parenthood is one of the blissful experiences that ensures you do not have them again. They are so painful, you wish you never had a child in the first place. It can be a boon and a bane at the same time. So, what's your take on it?
36. Toddlers Do All Those Things They Shouldn't Be Doing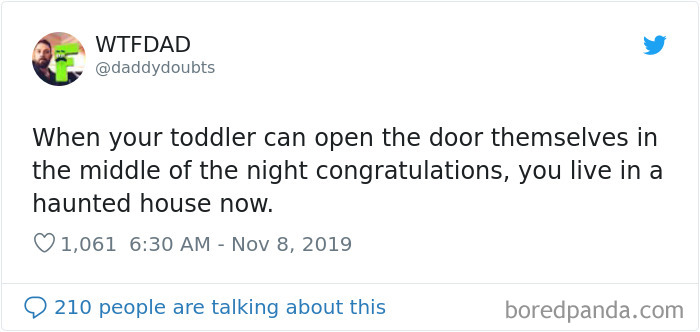 You should make sure that your babies do not learn to unlatch the door. Or they cannot reach the lock. Otherwise, they will be opening them at any time of the day…or night. Just make sure the latch is out of their reach, or high enough so they cannot reach it. Leave the lock as it is, kid. You do not want the ghosts to come in, do you?
37. Who Said Parenting Was Easy?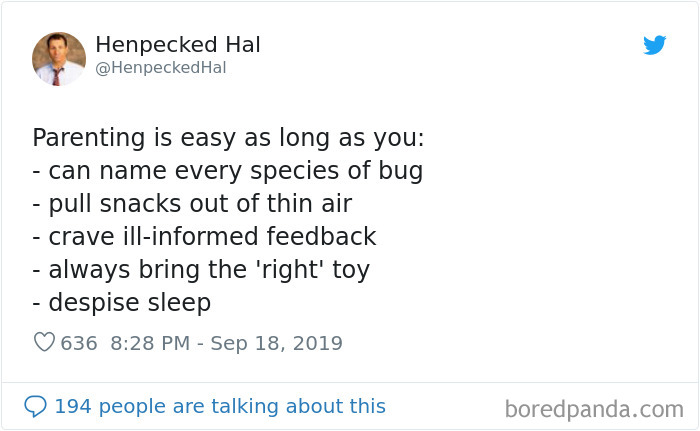 Parenting is more difficult than clearing the SATs, LSATs, GREs, MCATs, GMATs put together. Why do we say so? Just look at the picture above and your questions will be answered. Need we say any more? Parenthood was never easy. You just want that phase to pass away.
38. Yeah, Mom's Music Is Just…Whatever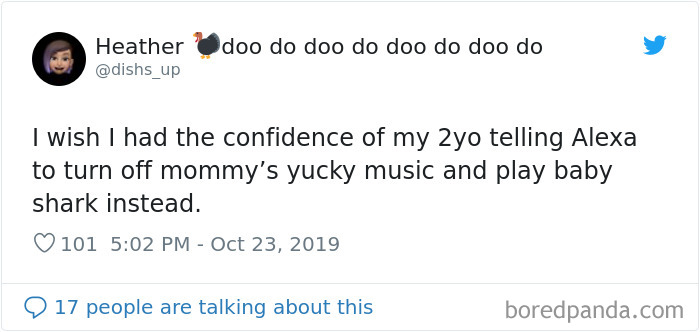 No child in their right minds would love their Mom's singing. But Mommies, you shouldn't be feeling bad. It's not because you are tone deaf or anything. Even Britney's and Celine's kids do not love to hear their mommies sing. I think that piece of information should suffice to lift you out of your woes.
39. Puke Alarm Works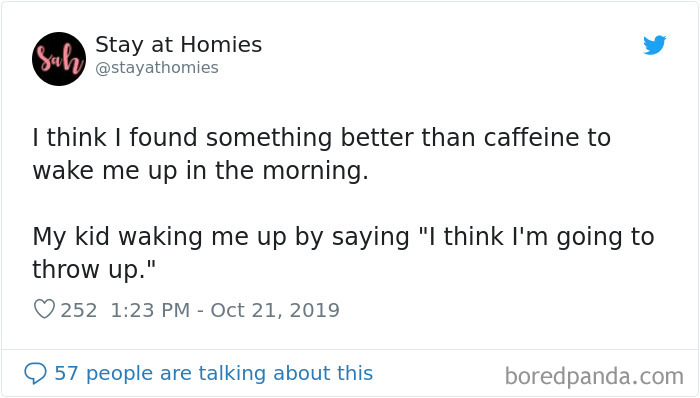 Yeah, your kid threw up on you? There's no way you are going to continue sleeping with all that gooey, gunky and slimy thing that smells like milk and cookies, splattered all over your body. Quick, you need to take a bath! But that was a part of the plan to get you up. You get the conspiracy, right? And you know what, you won't even need your daily shot of coffee.
40. Yeah, My Phone Is My Private Property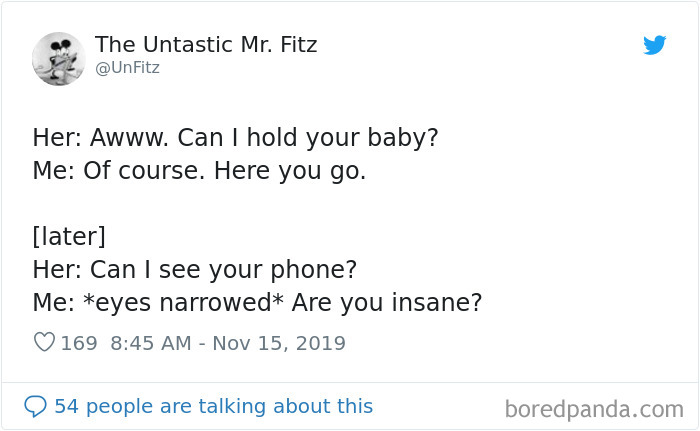 Take away my baby if you want to, but you are not taking away my phone. After all, who wants the baby? But you know Goddamn well that nothing, and I mean nothing in this world can take away my phone while I am still alive. Get it?
41. Do Babies Have OCD?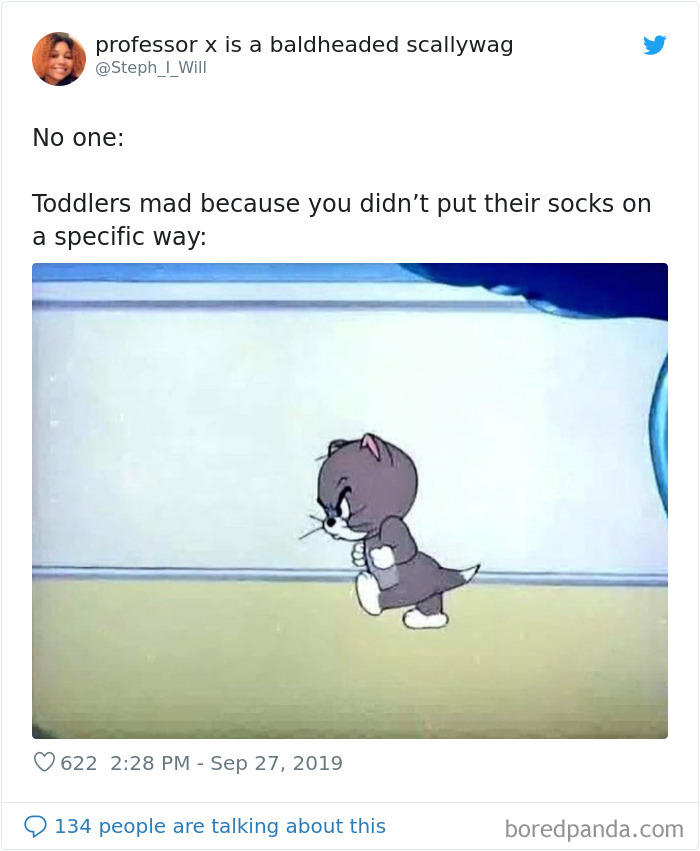 Ah, you do not need to explain that. Kids have their own silly fetishes. That means that they would have their belongings lying around in a specific way. I wouldn't recommend you to touch their things, even if it means that the house looks messy. Just leave them alone with their things.
42. Candy Means Love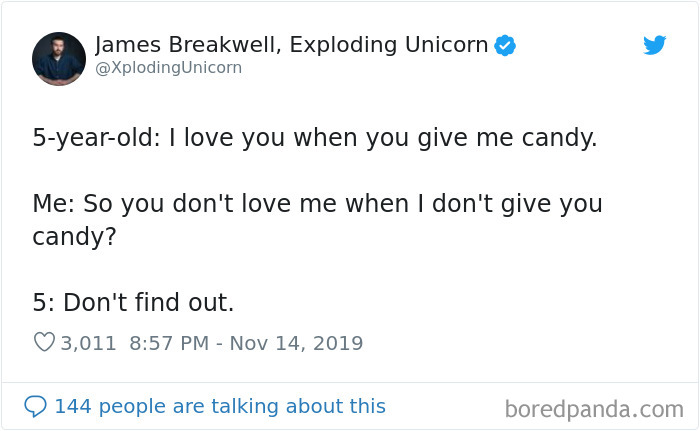 Without the candy, it is hard to win over their love. That is how a fickle a kid's love is. But if you are the owner of Hershey's or M & M's, then love is going to be eternal for you. Beg somebody for a lifetime supply of candies, if you want to win your child's love. Remember another tip, the number of candies is directly proportional to the amount of love they show.
43. They Repeat…And Repeat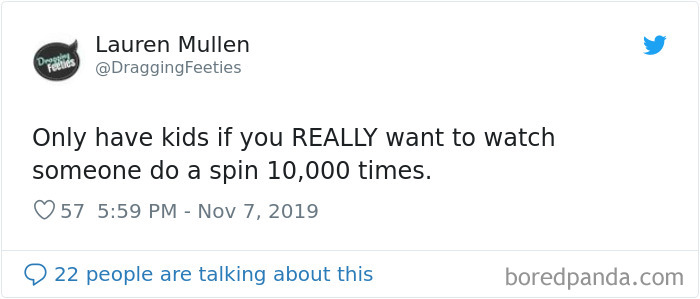 If you want to really be labeled as a loving parent, who really cares for their kids, then you should be patient enough. You need to watch things over and over again. Your kids love to show their capabilities to you. Just don't get bored when you are watching them doing a ballet spin for the millionth time.
44. Breakfast Time Is Pizza Time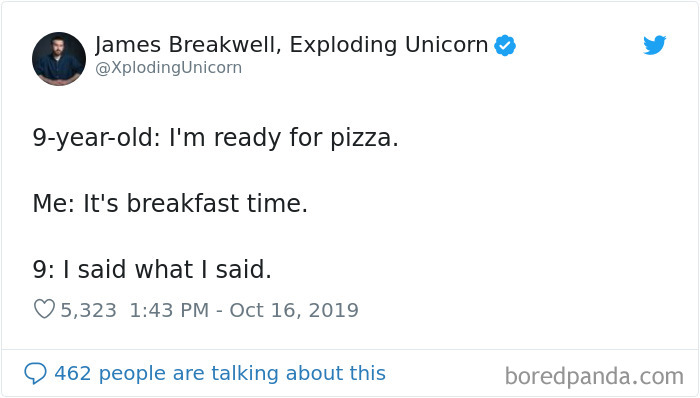 Yeah, they could even have a fried bagel or sweet syrupy doughnut or whatever else for breakfast. You want them to start with cereal, milk, and bananas? Maybe, but not every day. But they can have pizza at any time of the day, breakfast, lunch or dinner. Any time is pizza time.
45. OMG, Kids Of Today!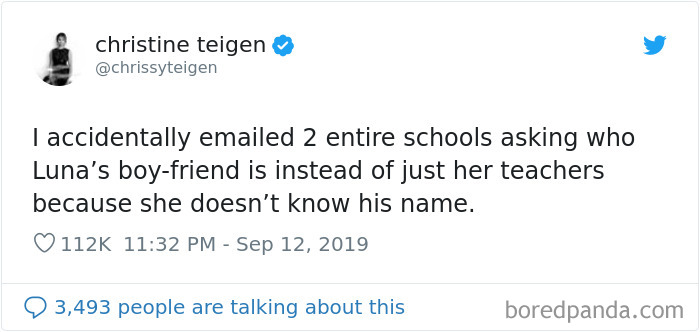 Yeah, kiddie love woes can get the best out of anybody. It's time Chrissy learned it the hard way. Thanks, Luna, for teaching your Mom a thing or two about love. You can be smitten and be a pain in everybody's rear.